Cornelia Wernhart ist seit Sommer 2020 Teil des Webgains Teams. Davor hat sie einige Jahre in England verbracht, um ein Masterstudium zu absolvieren und danach als Marketing Managerin zu arbeiten. Nun nennt die Österreicherin Nürnberg ihr Zuhause. Hier mehr zu ihr: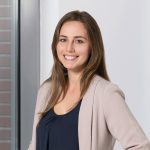 Kannst du dich und deine derzeitige Rolle und Verantwortungsbereiche vorstellen?
Ich bin Cornelia und seit Juli 2020 Marketing Manager bei Webgains. In meiner Rolle bin ich für alle Marketingaktivitäten im gesamten DACH Markt verantwortlich. Dazu gehören die Markenführung, Content, der Blog, Social Media, PR, Newsletter, Merchandising und vieles mehr.
Was bringt dich morgens aus dem Bett?
Seit Sommer meine Hündin Bella. Auch am Wochenende ist sie ein toller Wecker!
Wie würdest du einem Kind deinen Beruf beschreiben?
Ich helfe Unternehmen, so vielen Menschen wie möglich von ihnen und ihren Produkten zu erzählen und sie dafür zu begeistern.
Was ist dein bisher größter Erfolg – persönlich oder beruflich?
Ich bin sehr stolz darauf, ein Masterstudium in England absolviert zu haben und danach weitere vier Jahre dort als Marketing Managerin für Marken verantwortlich gewesen zu sein.
Wie sieht ein typischer Tag für dich aus und woran arbeitest du gerade?
Kein Tag ist wie der andere für mich. Aktuell bereite ich Content für unseren Blog und andere Kanäle für die nächsten Monate vor. Wir haben viel vor, Langeweile gibt es also nie!
Was steht auf deiner Wunschliste für die nächsten 5 Jahre?
In den nächsten fünf Jahren möchte ich unbedingt die Reisen nachholen, die im Jahr 2020 leider nicht möglich waren. Ganz oben auf meiner Wunschliste stehen Chile und Japan.
Was sind die letzten drei Dinge, die du online gekauft hast?
Ein Cocktailset, Pinsel für mein neues Hobby, das Malen, und Hundefutter für Bella.
Was ist dein Lieblingsspruch aus einem Film?
"I drink and I know things" aus Game of Thrones.