The Easter period is increasingly becoming a time of commercial opportunity with brands building timely campaigns to drive H1 sales to new levels. If you thought Easter was just about chocolate eggs being gifted to children, think again. We've seen plenty of smaller, low priced items enter the scene as Easter offerings.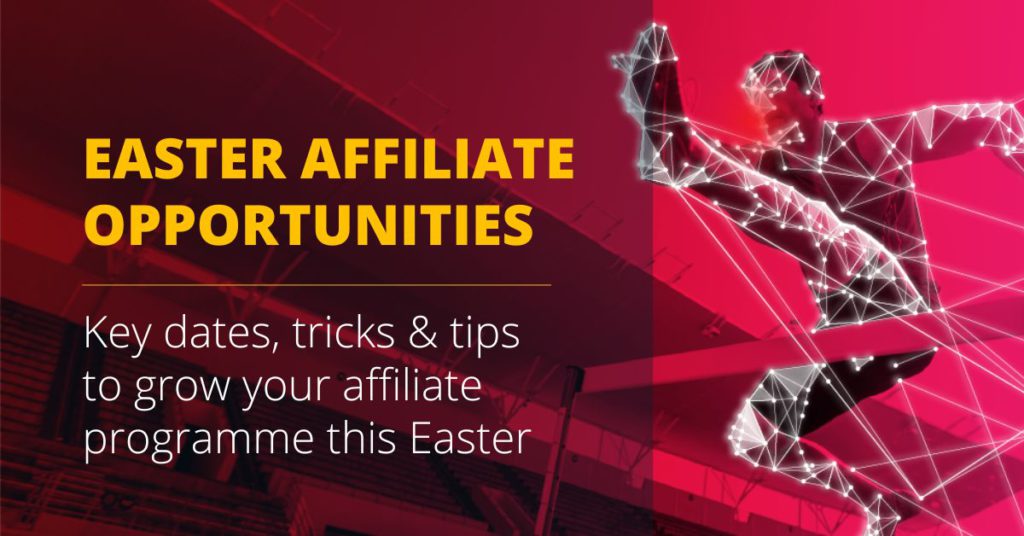 It's the start of peak season
Easter signals the start of Spring. This time is the beginning of peak trading season for many industries; from bikes and motorbikes, to travel and fashion. Almost every industry can capitalise in some way at this time of year.
Create discounts
Discounts will boost traffic and sales, especially around peak trading times. Hop on the bandwagon and set up some Easter offers in plenty of time. If you're operating on Webgains, we'll push these onto our publishers to get your conversion rate optimised.
Set up voucher codes
Customers love voucher codes so why not encourage new ones or reward loyalty with special codes for Easter. Brands on Webgains can easily create codes for Easter right now in the Webgains Voucher Manager. Whether it's free shipping, product-specific or on the entire range, you can use a voucher to boost your new customer sales and increase shopping basket values.
Easter offers and gift bundles
Matching gift suggestions in various price categories, Easter decorations and pre-prepared Easter packages bring joy and full shopping baskets. Put your Easter gift ideas in the spotlight and let your publishers present them.
Banners and advertising materials
Mainly due to the weather and daylight changes in the Northern Hemisphere, Easter brings with it a wave of colour and optimism. Why not bring the positive vibes into your banners and advertising and upload them to Webgains to attract some extra attention.
Make smarter connections
Easter is the perfect time to get more active; discover new publishers and present your Easter promotions to them. Our AI and ML-driven Affiliate Discovery tool helps you find the best publishers for your products. Learn more about Affiliate Discovery here. Remember, the partnerships that blossom around your Easter campaign will likely have plenty to offer as the seasons change so we encourage you to keep the connection going.
Motivating publishers this Easter
Around peak trading times and holidays, it's always helpful to provide some extra motivation for publishers looking to work with you. This can have the desired affect not only on new affiliate partners but also on those that you've previously worked with but have since become passive. Some clear ways to do this would be to offer bonus commissions, vouchers, cash or non-cash prizes.
Your annual campaign plan
In order to keep an eye on more than just the big e-commerce holidays, we have compiled the most important campaign days and seasons that you can use for your affiliate marketing campaigns.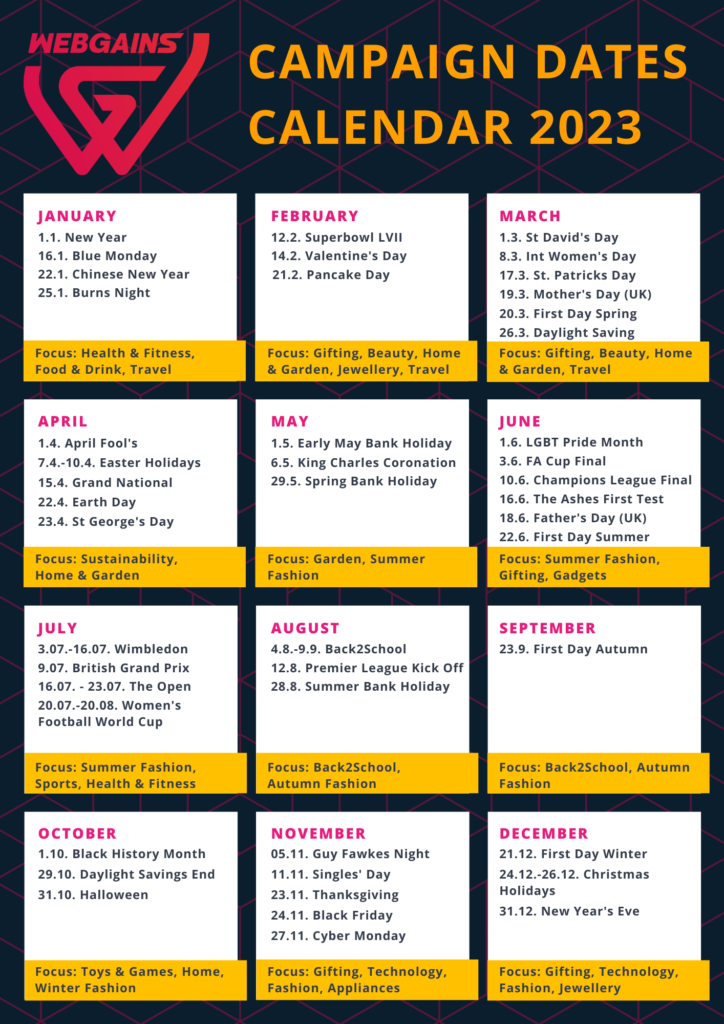 Even before Easter has arrived, March offers plenty of campaign opportunities.
March
March has a number of key dates days give you great opportunities to get in the consumer eye and position yourself through well though through content campaigns.
Healthy Eating Day lends itself particularly well to online retailers in the food sector. In addition, the days are getting lighter again in March and we are looking forward to the beginning of spring and with it the outdoor, sports, garden and barbecue season. Prepare your campaigns now to attract buyers to your shop with the first buds of Spring
Six ways to capitalise around key trading dates
Get active on your social media channels
Organise discounts and promotions
Create themed gift boxes & bundles
Add free gifts to orders of a certain size
Run a competition for your customers or social followers
Send timely email newsletters
The year is full of promotion days that you can use for your shop with creative ideas and suitable partners. Webgains Account Management is happy to support you in turning your ideas into a high-performing affiliate marketing campaign. Let's talk about how we can push your performance together with our affiliate network.
Find and connect with new affiliate partners on Webgains