There are very few dates, if any, in the affiliate and partnership marketing calendar that bring together as many industry leaders and influencers under one roof as PI LIVE Europe. This year we decided to capitalise on that through the creation of a new Mixed Zone attached to the ever-popular Webgains Sports Bar at PI LIVE.
With a dynamic media setup, we invited no fewer than 23 affiliate marketing professionals attending PI LIVE – representing multiple levels of seniority and from multiple business perspectives – to feature. We simply asked each the same two questions:
Is the affiliate channel in a good place?
What's the biggest reason you're optimistic about affiliate marketing's future?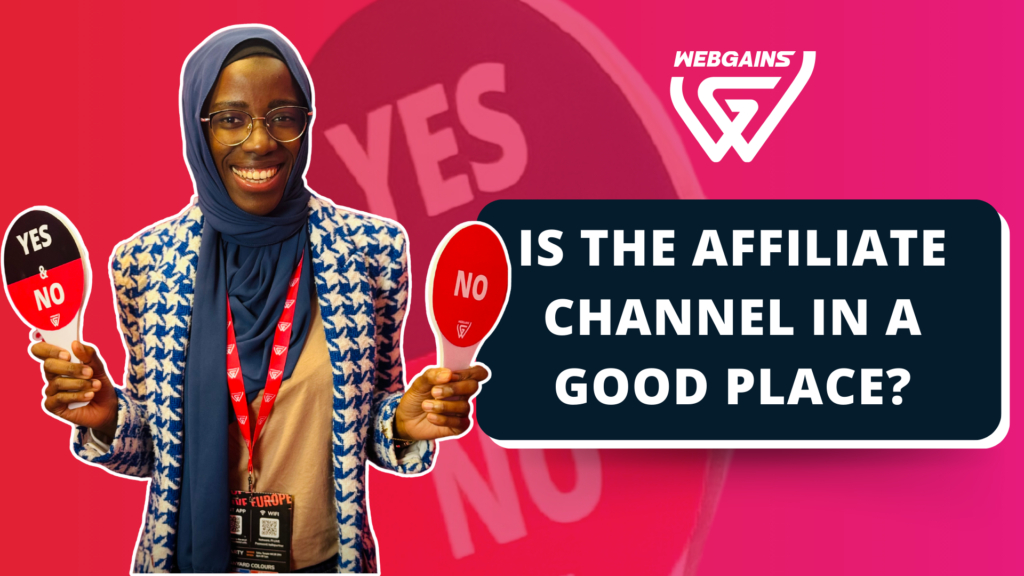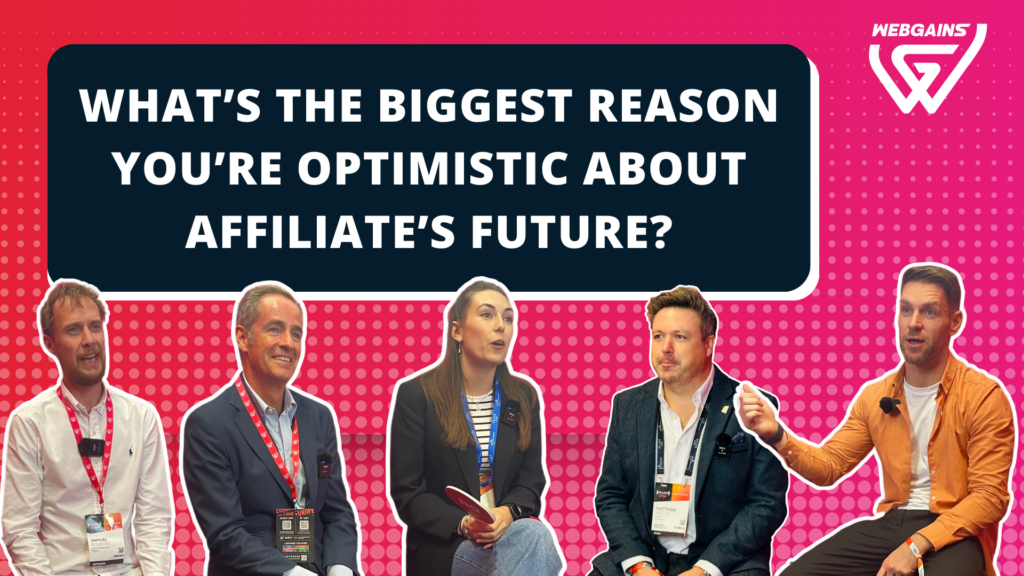 Watch the videos below then read on to uncover our core takeaways.
We thought long and hard about what we wanted to get out of the Mixed Zone and the questions we wanted to ask. Ultimately we settled on these due to their simplicity and the manner in which they would capture the current climate whilst enabling us to uncover what is next in the bright future of the powerful marketing channel that is affiliate.
Following these interviews, these are our core takeaways:
Prosperity from diversity
As in-person retail ended almost overnight during the Pandemic, shoppers turned to online commerce to meet their buying needs. This shift increased activity in the affiliate channel not only in terms of sales but also for new publisher types joining the mix.
"There's an affiliate for everything"
Marsela Qazimi, Senior PPC & Affiliate Executive at Lounge Underwear
"We're involved in so many parts of the purchasing funnel now right through to not just basket but discovery. And that's really exciting," says Hello Partner's Founder Matthew Wood (Media). And Wood is not alone in this sentiment, with several echoing him including John Harradence, Digital Marketing Lead at Signet Jewelers (Advertiser): "What we're noticing is due to the diversification [of the publisher mix], we're seeing really good traffic growth as well"; and The Affiliate Marketing Advisor's Elliot Myers (Consultant): "a lot of success from the brands I've managed, embracing a diverse affiliate pool as opposed to just working with 1 or 2 types of publisher."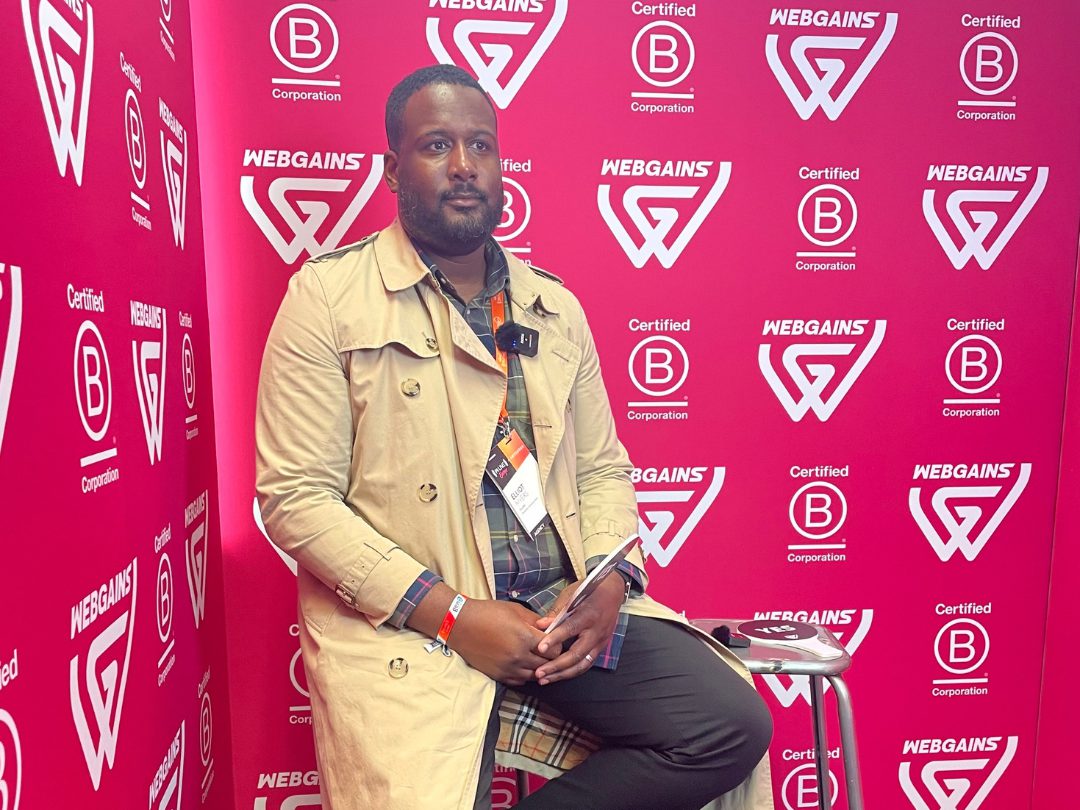 However, more than one person we spoke to still felt that, despite there being more affiliates, we are still too reliant on the best known affiliate types such as cashback and vouchers. "I think there's a lot more work that can be done around working with different types of affiliates," says Paula Oyinkan, Affiliate Marketing Specialist at Avon.
The numbers are great but can we keep up?
Our affiliate experts were clearly lapping up the content of the rich array of sessions on PI LIVE's various stages as they were well clued up on the latest forecasts and metrics for the channel. Here's some of them:
"Well over the next five years, digital ad spend is expected to grow 45%"
"This year we are seeing doubling the budgets coming through tenancies"
Alona Malinovska, UK Managing Director at Webgains
"Affiliate marketing revenue is going to double by 2030, so it is the place to be."
Hannah Lewis, Head of Search and Affiliates at Lounge
Although the affiliate channel is not the main marketing channel for the vast majority of brands, it does appear that spend and budget is increasing dramatically as more and more retailers start programs of their own.
Despite the numbers giving so much cause for optimism, our industry must not get carried away. Instead we must plan and strategise for this growing demand rather than let it overcome us. "We are growing into a $40 billion industry – so say the stats. But we are struggling to keep up with that incredible growth," says Lee-Ann Johnstone Founder of Affiverse (Agency).
Crisis environment plays to channel strengths
The sting in the tail of an economy kept on life-support throughout the Covid-19 Pandemic is a unique financial crisis that is currently making itself known on a global scale, both to businesses and to consumers. We're incredibly lucky to operate within a performance-based channel where resilience is firmly built in.
Webgains CEO Iñigo Abrisqueta (Network) encapsulated this: "Clients are looking for direct return on investments and they measure in their investments. And the affiliate channel is the best one." Greg Constable Client Services Manager at Groupon (Publisher) remarked in a similar vain in the context of shoppers: "We've reached a broader market now purely because everyone needs to save money and no one's got loads of cash to spend on kind of high ticket items."
Influencer economy uniquely authentic and ready to step up
As previously mentioned, there is an ongoing channel beyond the most popular traditional affiliate types such as cashback. One such affiliate type on the rise is influencer. Expansion through influencer marketing is clearly a growth area for advertisers. At least that's the case for arts and crafts retailer, The Works:
"We're seeing a lot of growth through the affiliate channel…we're really ramping up what we're doing with influencer networks"
Alice Franklin Affiliate Marketing Executive at The Works
Despite brands like The Works moving into influencer, its growth within affiliate is still in its infancy with huge untapped potential according to those who drive it.
Rosie Slinn Head of UK & IE at Metapic (Publisher) calls for fairer attribution: "Influencer and content affiliates don't always get fairly rewarded. So, I would love to see more moving away from more traditional last click models"; whilst James Eid CEO of Sway Me Good (Publisher) highlights what influencers can offer in terms of authenticity that other affiliates cannot: "The majority of consumers are looking for authentic recommendations. And if creators and affiliate links are being pushed and it's not through authentic and credible persons…there's going to be questions around affiliate marketing."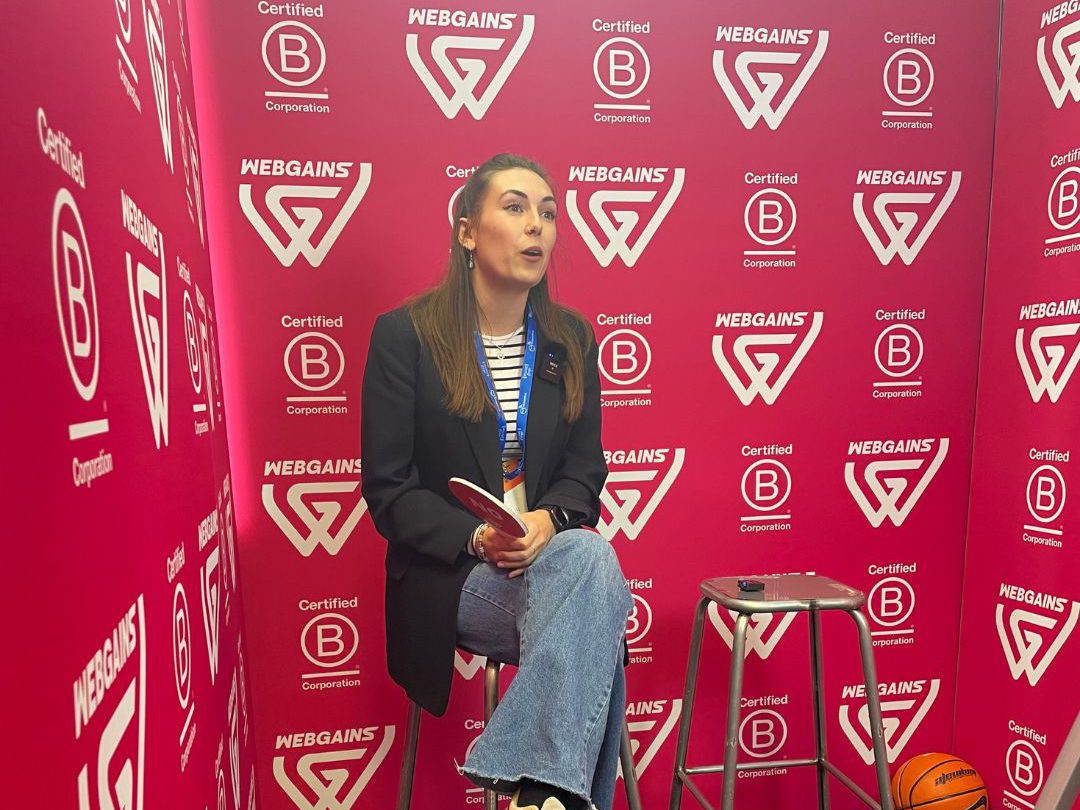 Affiliate is ultimately still a people industry
Decision making and trust in affiliate is boosted by the increased availability of data.
"It's a data-led approach that actually gets a lot of sign off from the seniority people at brands…we can actually back up our reasons"
Greg Constable Client Services Manager at Groupon
Daniel Harding Commercial Director of Envolve Technology (Publisher) also reflected this saying that it is "the opportunity to test and learn" that is driving growth within affiliate marketing.
But behind the innovation, the evolving technology and the quantitative approach, is an underlying constant – people. A clear theme emerged, emphasizing the role of people and relationships as the driving force behind the growth of affiliate marketing. As a network and exhibitor at a trade show with thousands of colleagues and hundreds of meetings taking place around us, it is very hard to disagree.
This is certainly the case for Ben Heylar General Manager at NetRev (Publisher): "It's people, people connecting with other people, understanding goals, to make this work and make this industry thrive"; and for Chris Tradgett Strategic Advisor at Moonpull (Publisher): "It's [affiliate] always been a people industry, and even more now that we have real partnerships growing between publishers, advertisers and their agencies."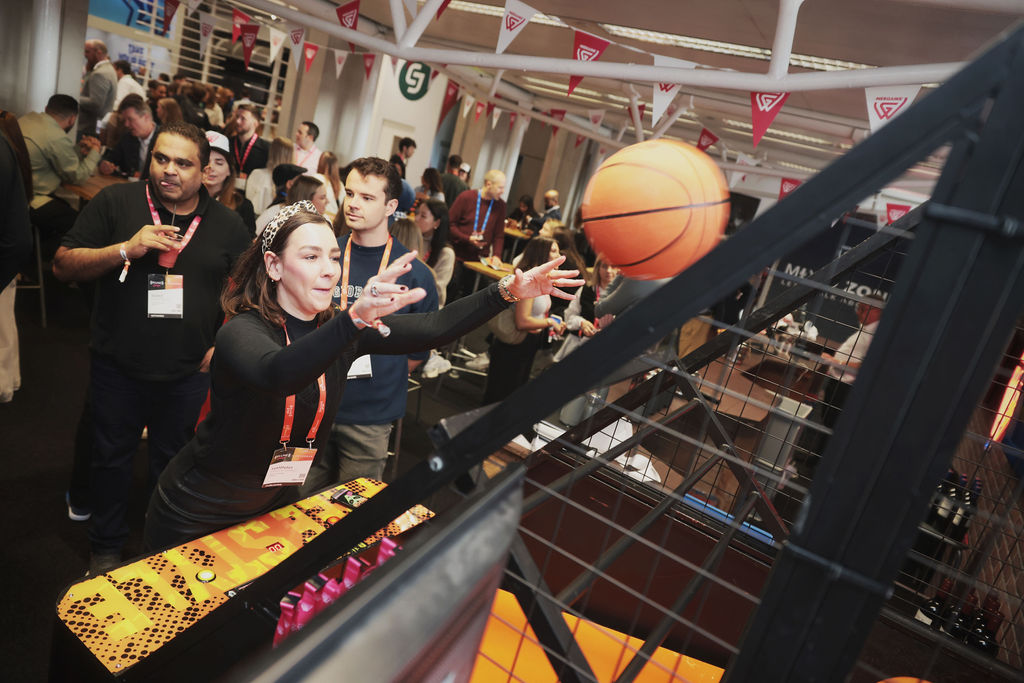 Webgains Sports Bar at PI LIVE Europe 2023 was the home of our Mixed Zone
The more innovation, the better
"You only have to be here at PI LIVE today to see the level of innovation and growth that's happening into the channel" – Andrew Turner, Managing Director at Incubeta (Publisher).
In reality, the affiliate channel is continually influenced by geopolitical, economic, and societal changes. This creates an extremely dynamic environment but also encourages innovation to sustain and propel us. PI LIVE Europe demonstrated that when it comes to improving and diversifying our approach, we're not doing too badly. However, as Lee-Ann Johnston Founder of Affiverse (Agency) mentioned, we must keep our foot on the accelerator.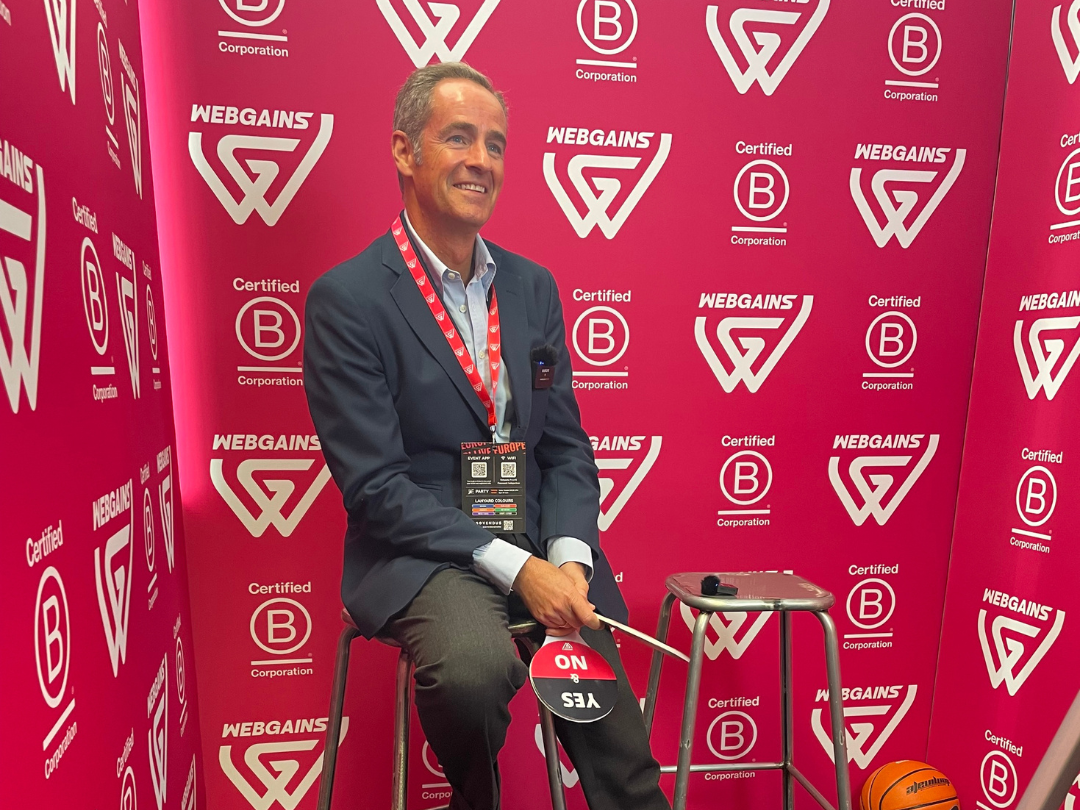 Paula Oyinkan, Affiliate Marketing Specialist at Avon (Advertiser) points to the example of Tik Tok shops: "I feel like it's creating a new path for affiliate marketing, and it's making it a bit more sexy compared to other channels."
Alex Dalby Head of Partner Acquisition at Blue Light Card (Publisher) looks at multiple trends he's interested in and seeing: "AI is going to massively improve personalisation…things like influencers and you know, things that people have never really seen before are coming in."
Tracking is the biggest issue we're facing
Whilst the rhetoric we received was overwhelmingly optimistic for the affiliate channel's current and future status, there was one major subject that kept coming up – tracking. Webgains CTO Samuel Rodman (Network) who knows more about it than most recognises this: "the tracking technologies that we see are continuing to be a challenge for the affiliate marketing industry as a whole."
Deirdre Mc Gettrick Founder of ufurnish.com (publisher) shows concern for what this means for publisher attribution: "there are challenges around commercialisation and tracking and ensuring that affiliates are fairly rewarded."
James Little of Commercial Director of TopCashback (publisher) is equally as concerned: "I've just done a panel on tracking, and I think there's lots of concerns over what that's looking like moving forward with all the changes to the industry."
The issue came up time and time again. This time with Incubeta's Managing Director Andrew Turner (publisher): "We've got some really interesting obstacles to see with the final degradation of the third party cookies and what that means from a tracking perspective."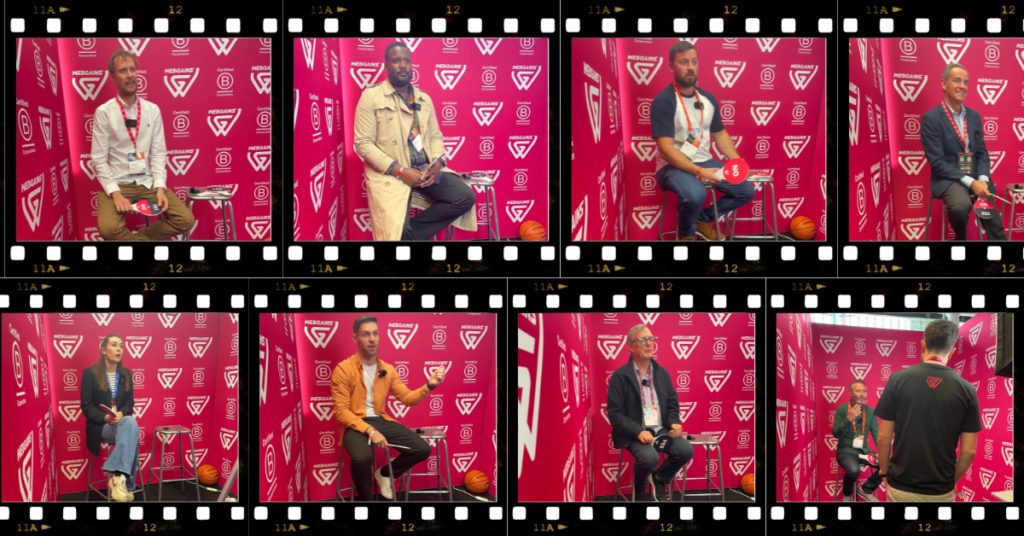 But where technology – in this case tracking – is the problem, it is also the answer. It's clear that, led by affiliate networks, driven by the buy-in from brands and publishers, this issue will be solved together. It is as Mark Andres Director of Merchants at Finfare (publisher) concludes:
"There's lots of hurdles which are being chucked at us. But I feel that we as an industry, we we've overcome hurdles in our past with technology. And with the right technology I think we'll find the solutions to every tracking need."
Final word
Those who joined Webgains in the PI LIVE Mixed Zone did not mince their words. The nuance and questions raised in their responses brought out some serious concerns, not least around how we will resolve issues with tracking and reality of a cookieless future. However, the overall feeling was one of huge optimism and excitement about impending growth and the people and innovation that will drive it.
We're extremely lucky to work in a channel where resilience is built in. This has seen affiliate survive many a storm and it will continue to navigate us through future challenges.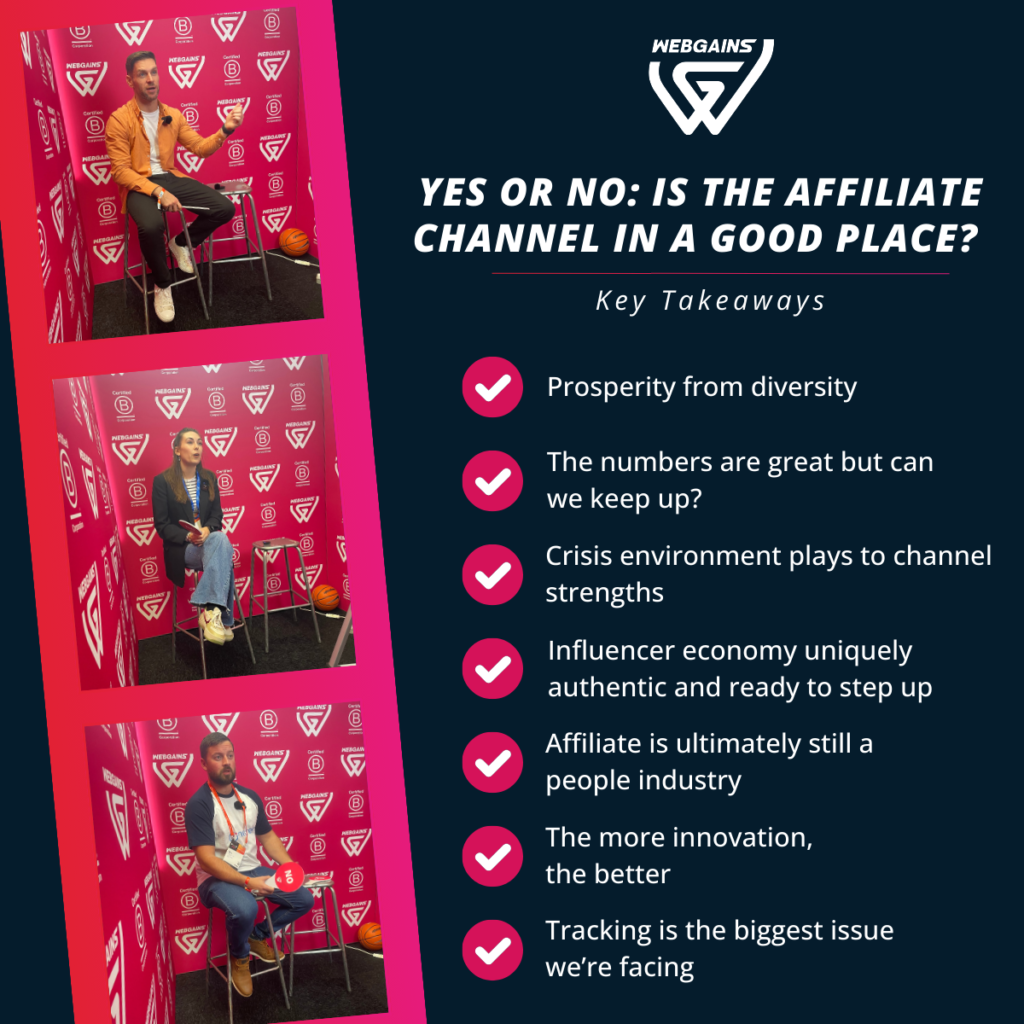 So, is the affiliate channel in a good place? The answer largely depends on your perspective and position within the industry cycle. Ultimately, there are numerous reasons for optimism, and we believe we speak for all our featured colleagues when we say, 'Bring it on!
Thank you to all our participants: