With summer now behind us, we have just entered into the year-end holiday season. Especially in times of price sensitivity, both online and offline consumers are on the lookout for deals, offers, and the best prices. For both advertisers and for publishers, early preparation is more crucial than ever.
To ensure you're optimally prepared for Q4 and the holiday season, we've compiled some tips and recommendations for your affiliate program.
Early campaign planning
In times of soaring prices, consumers will focus intensely on finding the best prices and deals. The current economic situation probably means that this matters more now than ever before. Impulse buying is decreasing, and as a result, the holiday shopping season is starting earlier. For many consumers, the gift hunt begins as early as mid-September.
Make sure to have your offers prepared and Christmas campaigns planned in with relevant publishers to secure your share of 2023 e-commerce revenue.
Key dates
Make sure to mark these dates on your marketing calendar: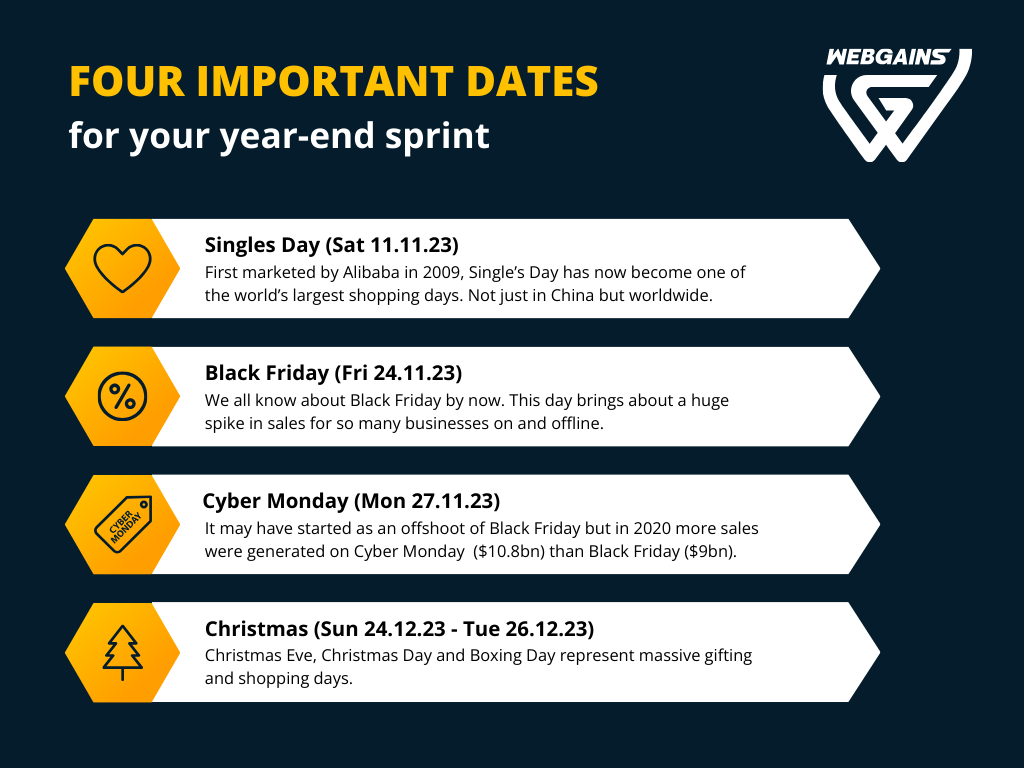 Seize opportunities
Affiliate marketing is a low-risk, high-return channel in your online marketing mix. There's every reason that brands should be increasing their investments in it right now as, unlike other marketing channels, it is largely performance-based. Commissions to the publisher promoting your products and to the network are only payable upon a successful transaction, i.e., when the customer successfully completes the purchase. Hence, it's the optimal channel for the year-end business.
Preparation
To ensure you're optimally prepared for Q4 and the holiday season, our Account Management team have compiled some tips and recommendations for you:
Start Your Affiliate Marketing Program: If you have not done so already, join an affiliate marketing network and gain significant visibility among relevant partners. As you're already here, why not Start your partner program with Webgains?


Plan Ahead: It's always best to be prepared.

Utilise your internal marketing calendar for campaign and promotion planning.
Increase your visibility by aligning activities and promotions.
Invite relevant publishers to promote your partner program.
Premium placements with publishers are often booked four weeks before Q4, so good preparation is everything.
"Make the most of the peak period by getting in there early and investing across your publisher mix and not just with one type of publisher to give you best possible chance of full funnel success. Having placements with voucher and cashback is great and will help with conversion during the peak, but don't forget about raising your brand awareness and introducing new customers to your site through the likes of content and display."
Optimise Your Product Data Feed: Ensure an optimal product data feed with up-to-date prices and availability.

For standardised feeds, we recently introduced a new Product Feed Manager on our Advertiser Platform.
Product feeds are particularly relevant for marketing by publishers in Q4, as they provide an effective way to increase product visibility and sales during the holiday season and year-end business.
In addition to ensuring accurate information, product feeds allow publishers to display relevant products based on specific customer queries and intentions, increasing the likelihood of potential buyers clicking on ads and making a purchase. With Webgains Product Discovery, we offer publishers an AI-based tool to connect with additional programs and increase revenues and commissions through relevant products.
By using the Google Shopping format, adapting the feed for different channels is much easier, saving time and technical resources. Through the Webgains Publisher Product Feed API, publishers can conveniently and quickly access current product feeds.
Special Placements: To achieve the best ROI, we recommend booking special placements with the best publishers.

Typically, there are three options: Banner advertising, email marketing, and placement on pages related to Christmas and holiday vacations.
Some publishers also offer options for content, contests, and social media placements that can be negotiated as extras.


Expand Partnerships Through AI & ML: With AI-based tools, you can discover new partnerships that perfectly support your Q4 offers and goals. Whether you're an advertiser or a publisher, the Webgains Power Suite offers a variety of possibilities.
Meet Webgains' AI & ML Power Suite
Affiliate Discovery
Affiliate Discovery suggests publishers with whom you can grow your affiliate program. For the year-end business, it's worth entering into new partnerships and expanding your publisher network.
Product Discovery
Product Discovery is more than just a multilingual search function that allows product searches across the entire Webgains network to monetise planned content and generate new ideas.
Smart Commissions
Use Smart Commissions to pay out product-specific commissions. This precise control allows advertisers to hire publishers with high volumes for specific opportunities, increase commissions for special items or seasonal products, and much more.
Logistics and Shipping Times: While you want to make the most of Q4, consider logistics and your capacities.

Determine which products you want to promote.
Define your delivery options and set a final order date for timely delivery by Christmas Eve, including free and paid options, possible in-store pickup, international delivery, and gift wrapping.


Action Planning: Boost your revenue with targeted promotions. Consider both end-customer and publisher promotions.

Plan your end-customer and publisher promotions.
Provide promotions and coupon codes in your account.
Inform your publishers about promotions and promotional landing pages.
Tip: Book a standalone newsletter with us to inform Webgains publishers about your current promotion.


Create Marketing Materials: Create marketing materials that align with your campaigns and promotions.

Make your marketing materials, banners, text links, coupon codes, and promotions available in advance.
Prepare product-specific banners as they tend to have higher click-through rates than generic banners.
Create text links for each of your product categories and specific events and occasions.


Motivate Your Publishers: In Q4/Q1, it's the time to secure special placements with publishers through commission increases and/or exclusive coupon codes.

Exclusive actions for your affiliate campaigns can further excite publishers.
Commission increases can help promote specific products or generate new customers.
Additionally, a coupon tied to a minimum order value can increase the shopping cart value.
Are you ready for Q4?
Talk to us about your Q4 plans and how we can support you best. We're here to assist you in optimising your affiliate program for the peak trading period.
Webgains advertisers are encouraged to utilise placement opportunities on our channels to engage more publishers in your program, such as the Promobox within the affiliate account, newsletter entries, standalone newsletters, or social media posts. Please get in touch with your Account Manager for more information.
---
Are you looking to start your affiliate program to capitalise on increased shopper activity during peak sales periods? If so, head here to get in touch.