We're delighted to confirm the next three sessions in the current series of Webgains Transform. Thus far, we've published six sessions touching on a wide range of topics from sustainability to personal growth, to the affiliate marketing mix. New Transform sessions will continue to air on Webgains Academy each Tuesday and Thursday at 10am GMT for the remainder of the series.
What is Webgains Transform all about?
A virtual web series by Webgains, Transform aims to help both businesses and employees in developing their skills in order to succeed in the ever-changing business environment.

Throughout Transform, we're assembling a range of thought-leaders, change-makers and true industry disruptors to offer their insights on the skills needed to transform your business, life and career. Sessions will include sessions on a range of topics including market trends, building strong relationships and improving productivity from some well-known and influential speakers.
There are three core elements upon which each session is based that come together as part of the event.
Building
Resilience
Learn how to inspire transformation by developing a mindset for growth.
Market
Trends
Identifying the key themes that will drive future growth and success of a business and the retail market.
Smarter
Connections
Bringing together ideas and inspiration, along with learning about the power of affiliate marketing.
At Webgains, we are committed to setting a new agenda for businesses and individuals to transform brands, publishers, affiliate programs, careers and the lives of those around us through our events and the Webgains Academy.
Transform Series 2: Sessions 7 – 9
Please find further details about the speakers and topics we have lined up for sessions 7 – 9 of Webgains Transform Series 2.
Available from 10am GMT on 08/02/22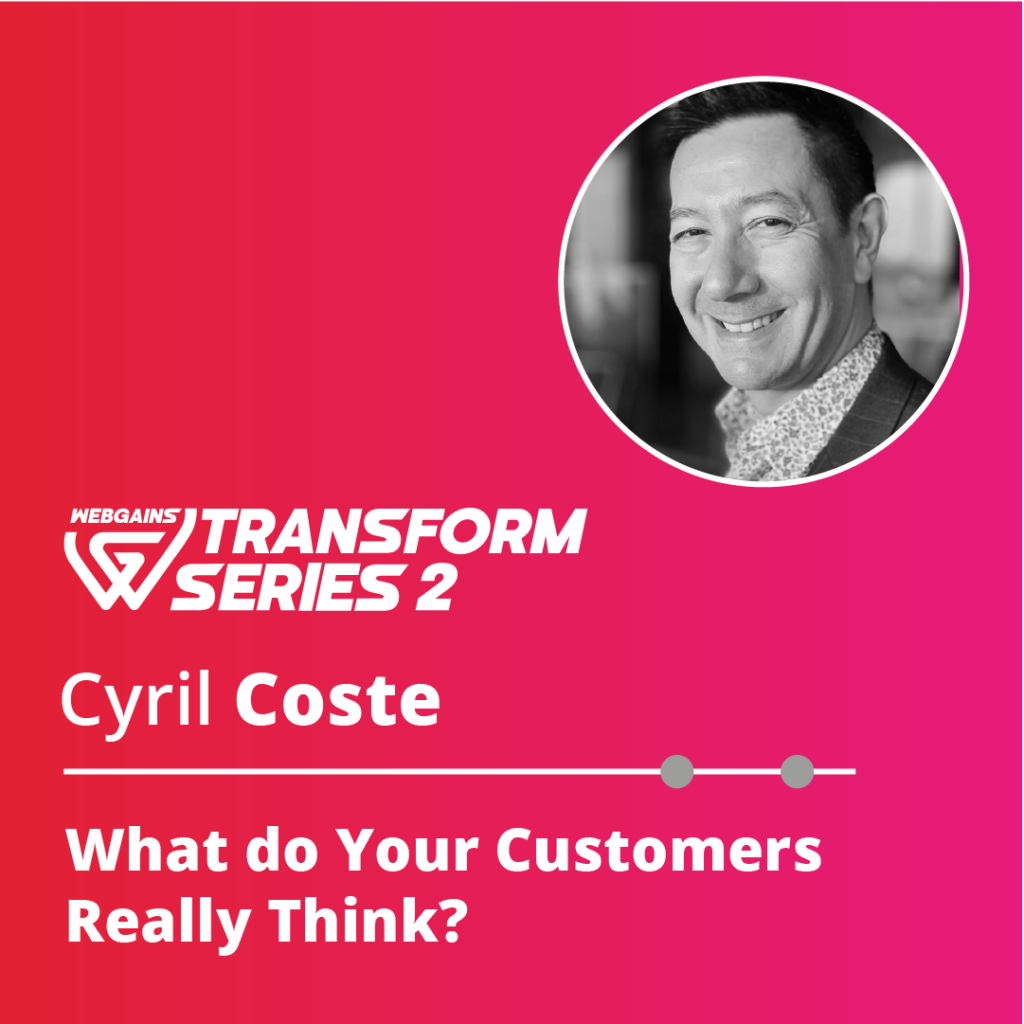 What Do Your Customers Really Think?
With
Cyril Coste – Founder at Digital And Growth
Natasha McKenzie – CMO at Webgains
About this session
For years we have been reliant on the NPS score to determine customer feedback. And, whilst this metric is still very relevant, but in retail especially, we need to do more, to know more. Digital transformation expert Cyril Coste joins Webgains' CMO Natasha McKenzie to discuss what a fresh approach for customer engagement and feedback in the retail sector might look like.
Available from 10am GMT on 10/02/22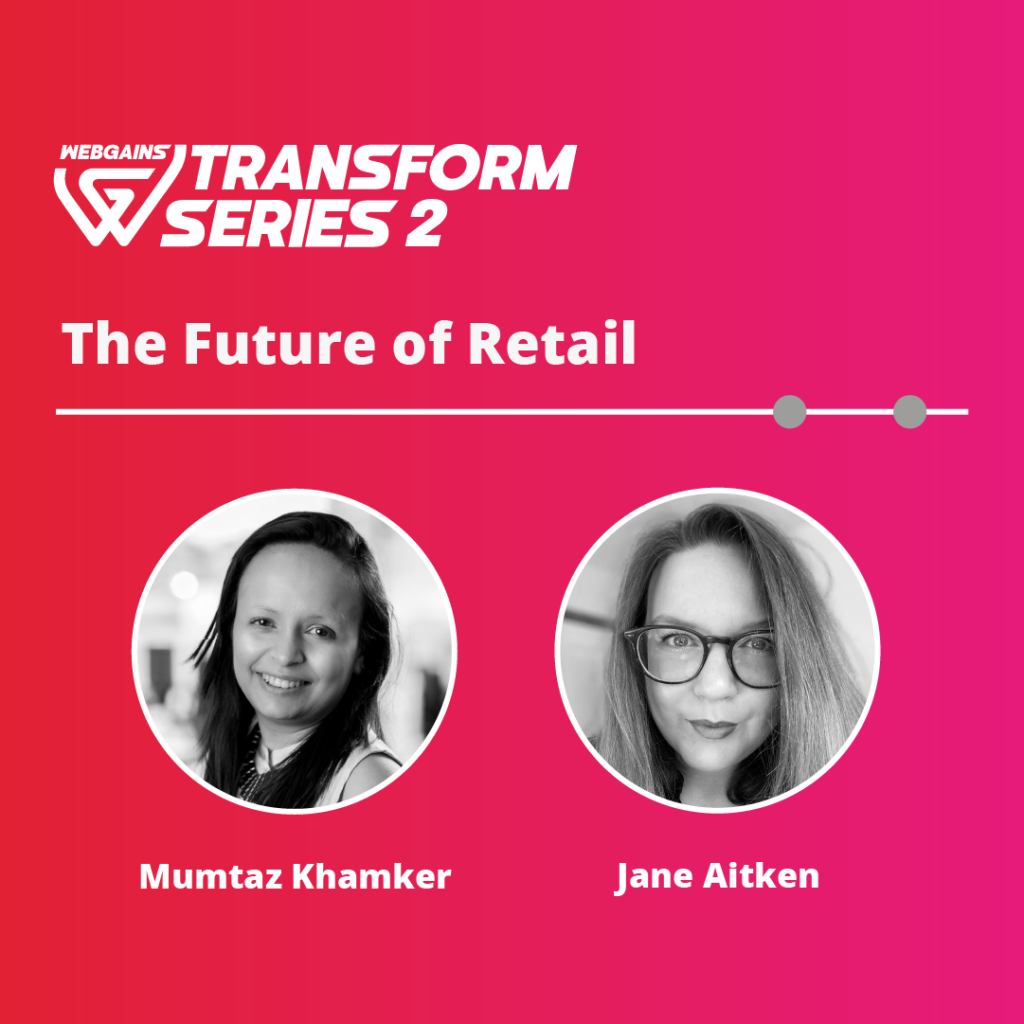 The Future of Retail: An Inside View
With
Jane Aitken – Head of Digital and Ecommerce, Asiatic Carpets
Mumtaz Khamker – Global Head of Strategic Growth at Webgains
Natasha McKenzie – CMO at Webgains
About this session
The retail industry has been forced to change dramatically over the past couple of years and its movement continues with new challenges presenting themselves. A discussion including retail industry experts Mumtaz Khamker and Jane Aitken, this session looks at both the challenges and the opportunities brands face on and offline in 2022 and beyond.
Available from 10am GMT on 15/02/22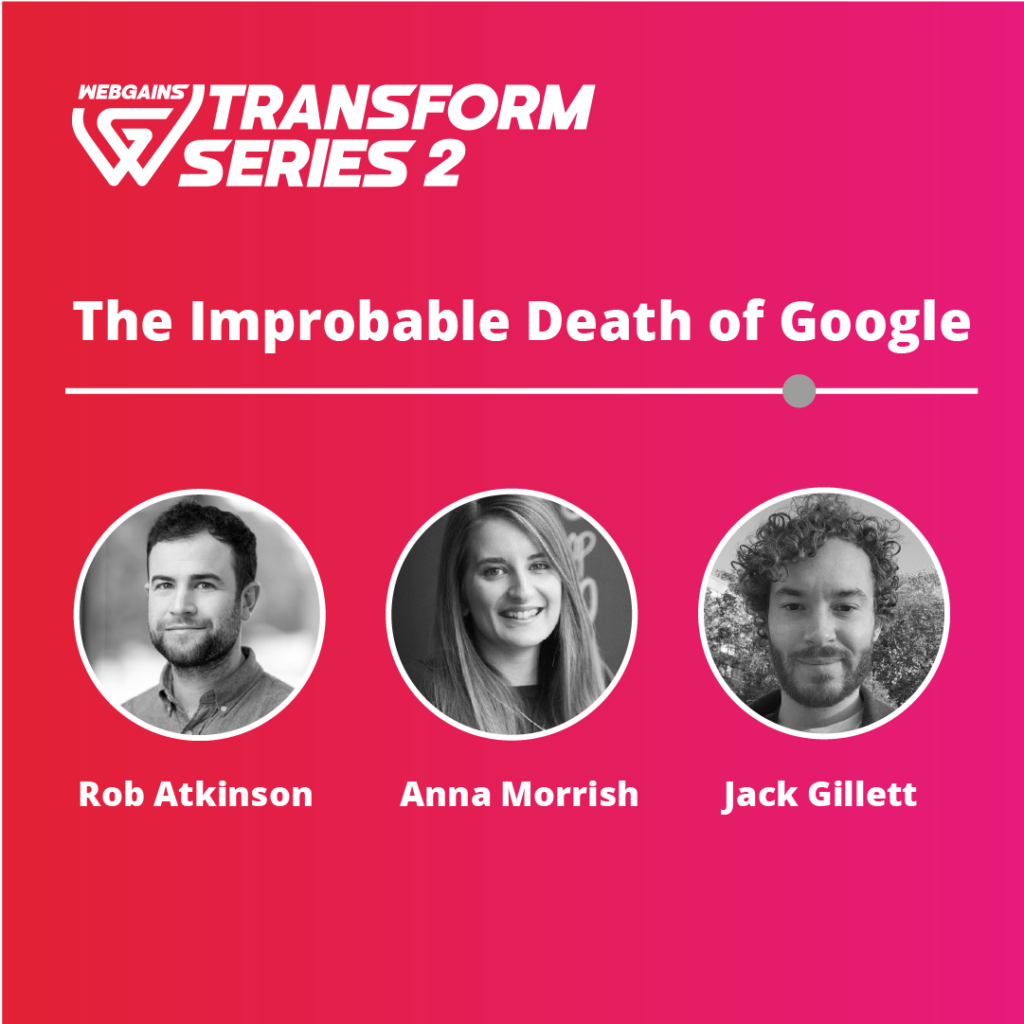 The Improbable Death of Google
With
Anna Morrish – Director at Quibble
Jack Gillett – Digital Marketing Consultant
Rob Atkinson – Digital Marketing Manager at Webgains
About this session
Recent changes in legislation – namely GDPR – have occurred as a reaction to the boom in digital channels. On May 25th 2018, the rules changed overnight. Mailing lists were deleted, consent boxes added, privacy policies rewritten and much more. This shift towards empowering the individual or consumer over their data has evolved into something bigger today. Not only do consumers want to own and protect their data, they want to be paid for it. The question is, how will this work? And will it work?
All the sessions above as well as our existing and future sessions are available to stream on demand via Webgains Academy. Simply register for free to watch.