Button not working? Email hello@webgains.com to get in touch
Over two days – 24th and 25th October – PI LIVE Europe returns to Old Billingsgate. Also coming back – bigger and better for 2023 – is Webgains Sports Bar.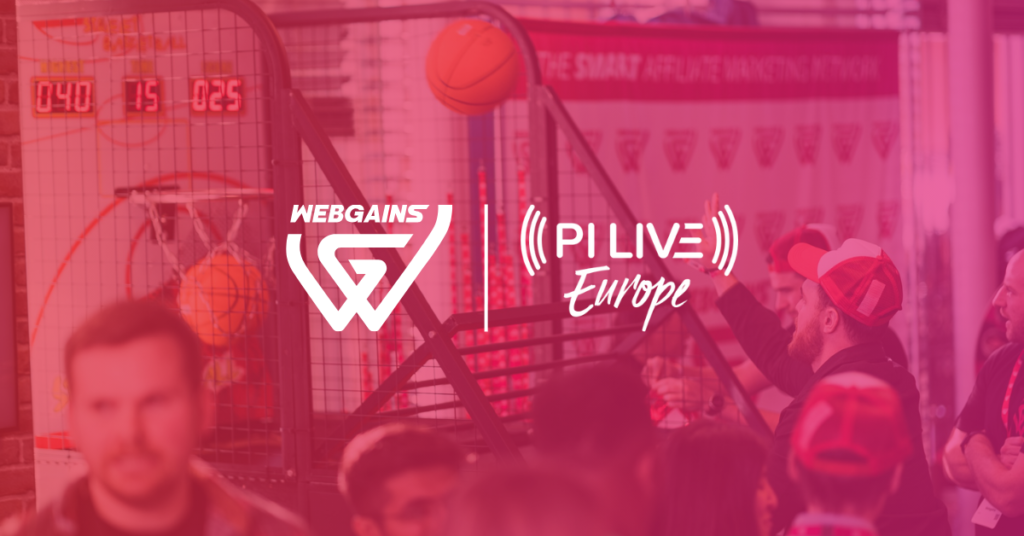 Webgains Sports Bar – Come to Win & Make Smarter Connections
The PI LIVE show brings our industry together like no other, and the Sports Bar celebrates that; it's a space to meet new and existing partners, and to strategise for campaigns you'll create and the sales you'll win together.
---
The number of affiliate-driven sales that have happened via Webgains following conversations started at Webgains Sports Bar some 12 months ago, is astounding.
---
Drop in for a minute or spend the whole show with us. Either way, expect networking opportunities, competitions, games, and much more. And of course, Team Webgains will be on hand throughout to help make your affiliate program a winning one.

Webgains Sports Bar 2023 – What to Expect
Happy Hour,
Happy Ears
2-4-1 drinks and music at Webgains Sports Bar.
Advertisers
vs Publishers
Spin that wheel and get competitive.
Basketball:
Shoot Hoops
It's back! Beat your best score & win prizes.
Mixed Zone:
Smile for the Camera!
Talk to us in our revamped Mixed Zone.
Smarter Connections:
Talk to Webgains
All Webgains departments represented.
B Corp:
Business with Purpose
Exclusive B Corp drop-in open to all.
Taking Centre Stage
Hosting the Sports Bar won't be the only role Webgains will play at this iconic performance marketing event; we are extremely excited to be PI LIVE Europe's Main Stage Sponsor.
---
Alongside the amazing Hello Partner team behind the event, we'll deliver a programme of speaker sessions that PI LIVE's 3,500 attendees are not going to want to miss.
---
Making up the exciting agenda are two sessions curated and hosted by the Webgains team: First up on day one Webgains COO Ami Spencer and Senior Account Director are taking the main stage with Hannah Lewis (Lounge Underwear) and Caitlin Hibbert (Linkby) for 'How to Win Budget and Influence Stakeholders'. Then, on the second day, Webgains UK Managing Director Alona Malinovska will be joined by a panel of affiliate industry leaders (see below for panel details) for 'Working Career Models for the Next Generation of Female Leaders'.
How to Win Budget and Influence Stakeholders
Uncover the dynamic strategies that leverage content to supercharge your budget and ignite your influence within your organization.
From Webgains– Chief Operations Officer Ami Spencer and Senior Account Director Ben Eversden
Guest speakers – Hannah Lewis (Lounge Underwear) and Caitlin Hibbert (Linkby)
When – October 24th from 10:20 am to 10:50 am
Where – Webgains Main Stage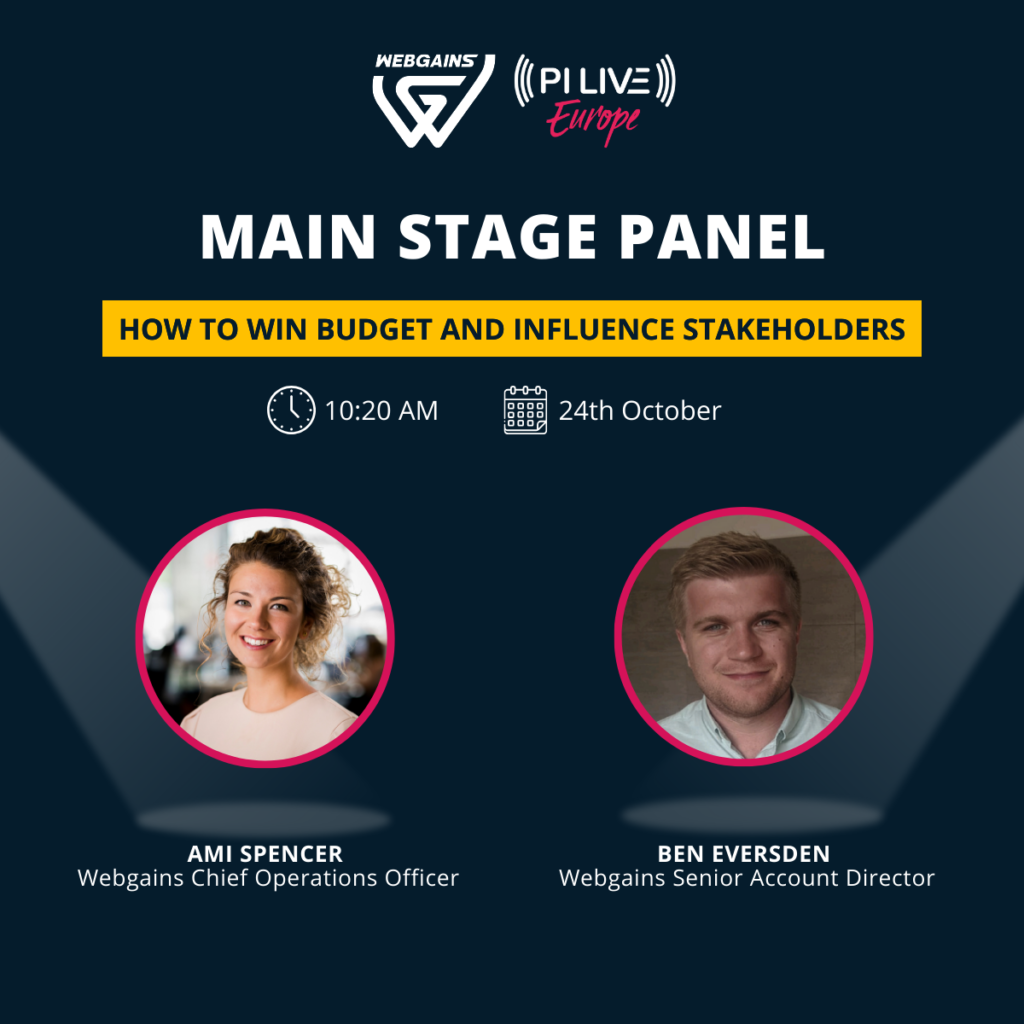 Working Career Models for the Next Generation of Female Leaders
This panel assures you of valuable insights that will enable you to thrive in your affiliate channel career.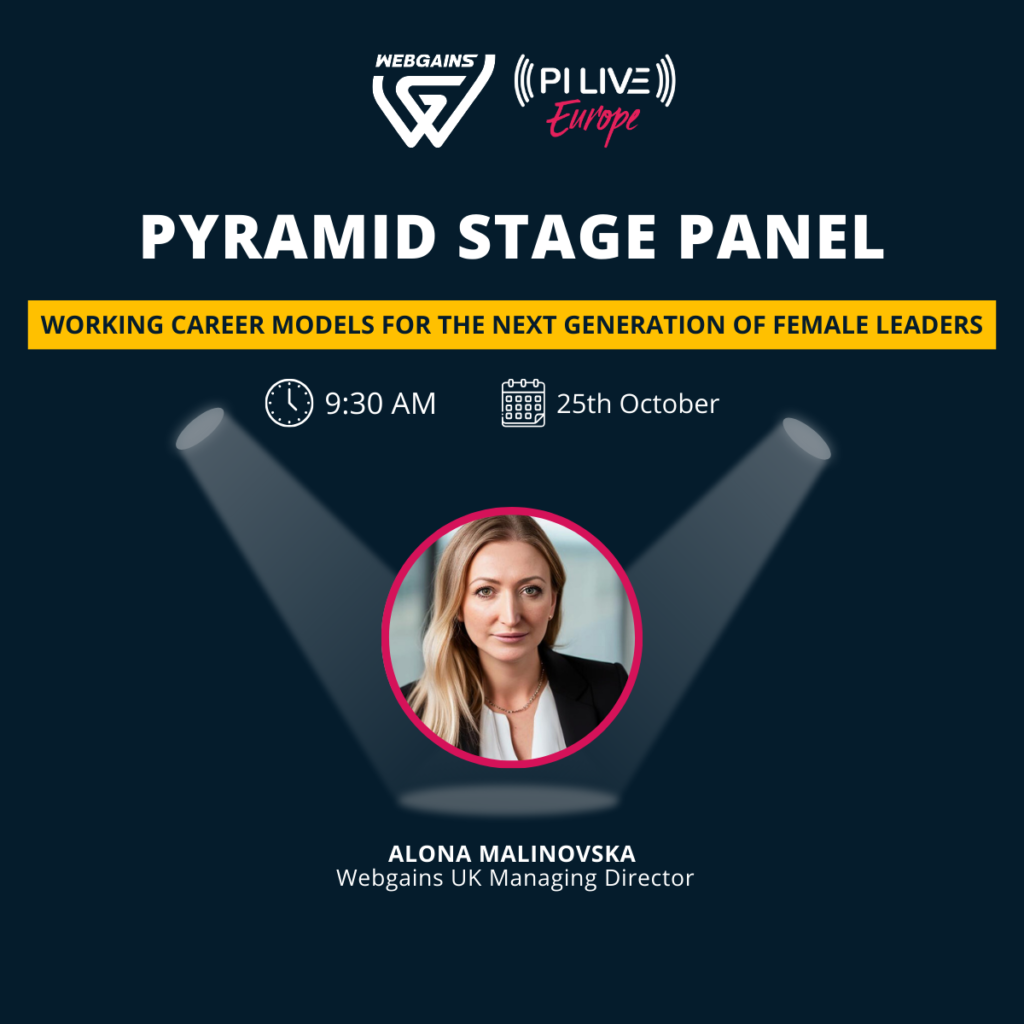 It's Good to Talk: Feature in Webgains Mixed Zone
Adjoining our Sports Bar is our brand new Mixed Zone. The Mixed Zone is great way for advertisers, publishers and partners in attendance to get involved at PI LIVE Europe 2023. The Mixed Zone features our media set up with camera and microphones we'll use to capture interviews, VOX pops and conversations throughout the event. Whether its promoting a campaign or program, new product announcements or delivering affiliate insights, the Mixed Zone is your destination.

The best way to be involved come October 24th and 25th is to pre-arrange your session. To do so simply send an email to marketing@webgains.com. Alternatively, there will be 'walk-in' availability during the show, so feel free to ask for more information in Webgains Sports Bar on the day.
Please email hello@webgains.com to pre-arrange a meeting with our team at this event.
About PI LIVE Europe
Taken from the PI LIVE Europe website – PI Live Europe helps brands and retailers connect with thousands of publishers, creators, likeminded brands and tech that can ignite profitable partnerships and discover how to effectively target consumers at all stages of the purchasing funnel.
---
Join Webgains at PI LIVE Europe 2023