Welcome to the Webgains Publisher Spotlight. To begin, could you please tell us a little bit about yourself and the company you work for?
I'm Adrien de Malherbe, the cofounder of refoorest, a free solution that allows anyone to turn their Google search results into tree planting. It's a great and free way to offset your digital carbon footprint.
Could you tell us what are your brand's core business values?
refoorest is an impact startup that aims at empowering everyone to do good for our planet in the simplest way possible.
What would you say are the biggest benefits for an advertiser working with refoorest & which advertisers do you work best with?
Indirectly acting for the environment, advertisers can create brand preferences and increase their conversion rates. We work best with any advertiser who is available on Google search.
---
INDIRECTLY ACTING FOR THE ENVIRONMENT, ADVERTISERS CAN CREATE BRAND PREFERECES AND INCREASE THEIR CONVERSION RATES.
---
Can you tell us about your audience & demographic?
Our users are predominantly from the US and Europe, between 18 and 34 y.o.
For advertisers looking to join you, do you have any requirements or restrictions to working with you?
No, all advertisers are welcome to join refoorest and start planting trees with us to help fight global warming.
---
ALL ADVERTISERS ARE WELCOME TO JOIN REFOOREST AND START PLANITING TREES WITH US TO HELP US FIGHT GLOBAL WARMING.
---
Any success stories you'd like to share with us relating to driving sales or traffic for advertisers?
Success stories are more about our impact on reforestation. In less than 1 year, we've been able to plant more than 200,000 trees at no cost to our users. As over 88% of customers prefer to shop with brands that are attached to a good cause, our partners see an increase in traffic and conversion rates.
Any upcoming opportunities that you'd like to share for refoorest?
It's never too late to act, join refoorest and start planting trees today while searching on Google.
Any upcoming opportunities that you'd like to share for refoorest?
It's free for end-users and allows them to do good for the planet within their existing search engines.
---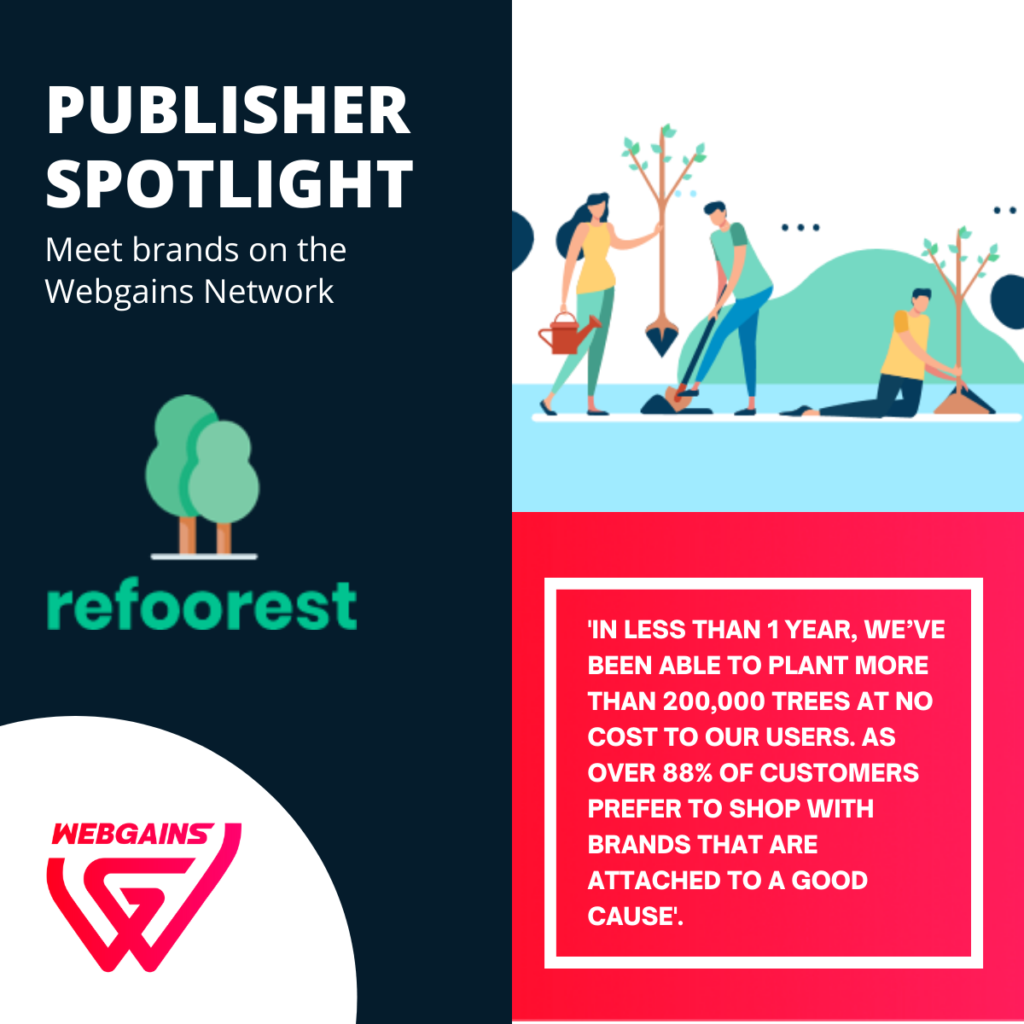 PARTNER WITH REFOOREST ON WEBGAINS