Article by Ami Spencer, COO Webgains.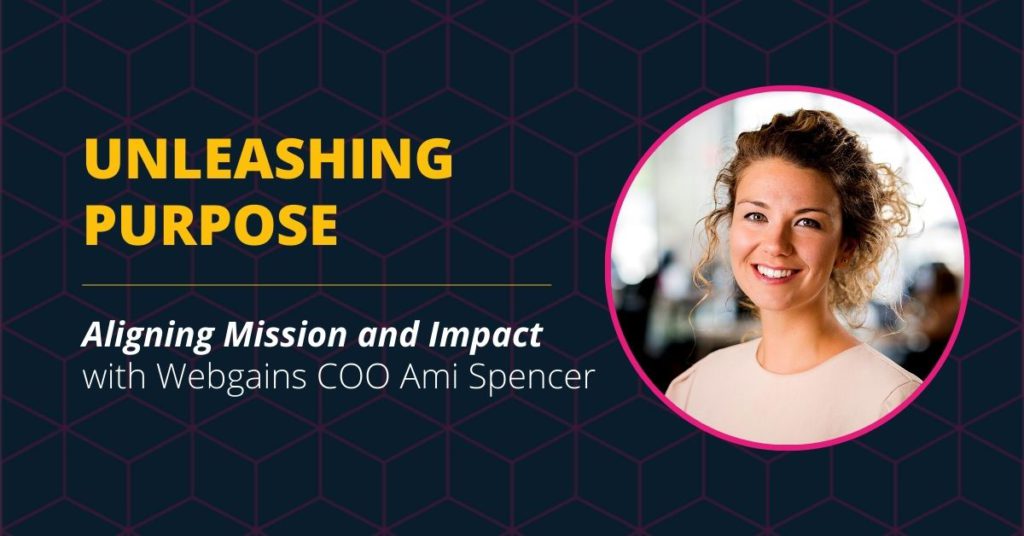 Customers, employees, and stakeholders are increasingly seeking more than just profits from the companies they work with. Positively, there is pressure for companies to align business practices with a broader mission; a mission that considers not only the impact on the environment, but also all stakeholders and the communities in which they work.
Webgains is one such company on this journey to better understand how we work with purpose and the impact of our business actions. At the start of 2022, we made a commitment to this, by engaging with B Corp and started our accreditation process.
B Corp is a certification that recognises businesses that meet high standards for social and environmental performance, transparency and accountability.
As we near the end of our B Corp audit, I have reflected on five key strategies that I consider to be important to this journey, including some of our personal learnings.
Keep reading to find out what they are…
1. Define a Clear Purpose
Defining a clear and meaningful mission statement or goal, which captures your company's values, vision, and the positive impact you aim to bring, is a necessary first step.
This can help create a strong sense of direction and shared commitment to making a difference.
2. Embrace Sustainable Practices
Sustainability should no longer be an optional add-on for businesses or a tick box consideration – it is imperative.
"Adopting sustainable practices should be driven throughout, from prioritising eco-friendly office products, to waste reduction/reuse initiatives."
At Webgains, we have created responsible purchasing policies, and removed single use plastic from events.
For many digital businesses in the tech industry, reducing emissions from server and cloud technologies should also be a key consideration, as this is a big hidden contributor to CO2 within the affiliate industry.
3. Cultivate a Values-Driven Culture
Building a values-driven culture helps align employees with your purpose and fosters a more productive way to work.
"Investing in wellbeing, real diversity and inclusion initiatives, and creating a culture of open communication and feedback will help build this."
This can also be supported by policies that structurally drive this, for example:
Paying a living wage
Support for returning parents
Mental health initiatives
4. Practise Social Responsibility in your Communities
We all have an opportunity to contribute to the communities in which we work. Engaging with local non-profit organisations, charities and initiatives which support less privileged can provide grounding for those involved and positively impact local communities.
At Webgains we offer employees paid time to volunteer with charities and we have also provided our office space to host community events. This is is a great way to give back. We also sponsor local sports teams, including the Bristol Flyers Basketball team.
"We all have an opportunity to contribute to the communities in which we work."
5. Measure and Communicate Impact
To truly work with purpose, it's important to be able to track and measure your performance. Of course, we're no strangers to this approach in the affiliate marketing industry! By doing this, it allows you to set key performance indicators (KPIs) related to your company's purpose and ensures accountability.
This is an area we continue to develop at Webgains as it is crucial to our journey.
Being transparent and publishing your intentions can also be a great way to communicate the work and goals you have in place. This is often done in the form of an Impact Assessment Report and a requirement for all certified B Corps.
---
Unleashing purpose should not be considered a greenwash tick box exercise, nor is it about donating your profits to charity or neglecting financial performance. It's an awareness of the impact our decisions and actions can have, and how we lead teams to support better ways of working.
Every business has an opportunity to work towards improved environmental and social performance, and with more companies truly engaging with this, the impact would be measurable.
Webgains is B Corp pending, stay tuned for more updates on this coming soon.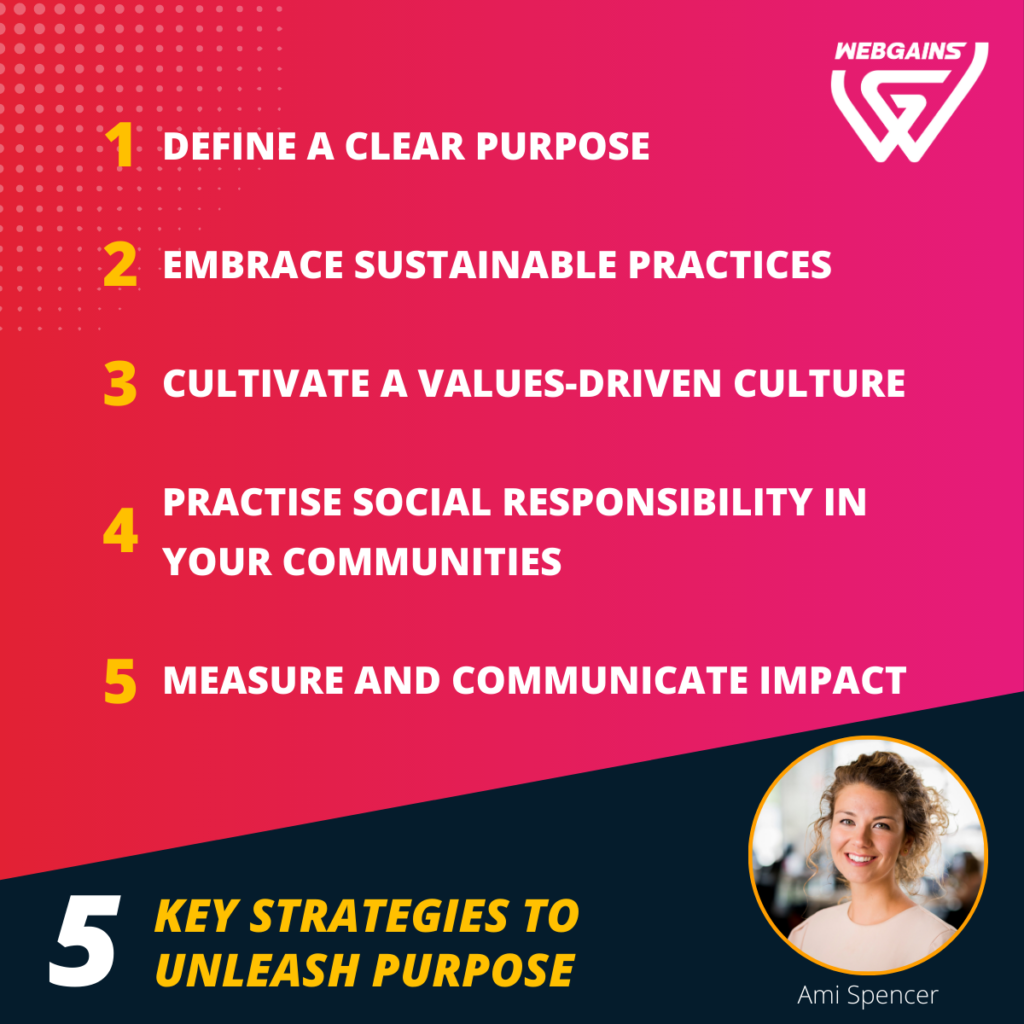 If you would like to learn more about Webgains or understand how we can help your brand grow through the affiliate channel, please get in touch – hello@webgains.com.