On Tuesday 8th March 2022, users across the globe were unable to use or access their Spotify or Discord accounts. Online monitoring service, downdetector.co.uk, reported that there have been over 70,000 reports of the service's issues yesterday evening. Last year we saw the widespread Facebook outage, which resulted in Zuckerberg's net worth dropping by $7 billion as Facebook's stock dipped by 5%. What was meant to be a minute's worth of configuration updates took hours for Facebook's internal teams to resolve the issue. Although Spotify hasn't confirmed the reason behind the outage, this scenario is no different.
Emerging from the blackout came the internet's supersonic speed of memes and social commentary. However, hesitancy amongst consumers and marketers surfaced as the outage was yet another grim reminder of our reliance on technology and the fragility of social media systems. So, what can we learn from Spotify's temporary outage and their response? Within this article, we explore the learnings and what you can do to ensure that you have a robust marketing strategy.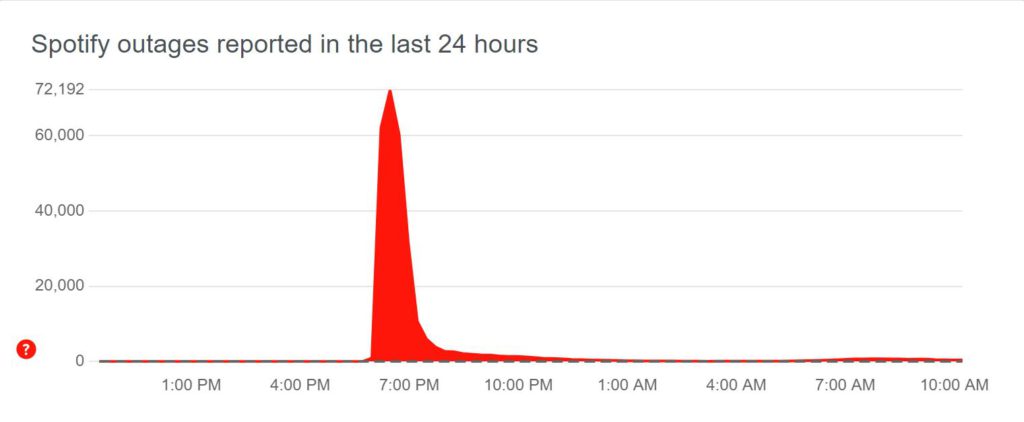 Spread over Multiple Channels
The outage is a source of contention for many marketers. It highlights the temporary and fragile nature of social media platforms.
Staying abreast of emerging platforms will be beneficial for evolving your business and strengthening your positioning within the market. There is a myriad of platforms that can be added to the marketing mix such as Twitch, TikTok, Club House, Youtube and Discord to name a few. Of course, you will want to focus on the platforms which are suitable for your brand and audience but utilising these channels offer their own perks and value. There are always risks in using a rented space to build a community but diversifying your channels will ensure that you have multiple touchpoints to reach your audience.
Community is everything and content is king. When a crisis occurs, capitalise on the situation, keeping your business relevant. Putting in place backup content and a comms plan will ensure that you can still provide timely and evergreen content with fast approval.
Put the Customer at the Fore
As touched upon in the previous section, spreading over multiple channels ensures you strengthen your positioning against your competitors and build community. However, it is also a sure way to keep in contact with your customer base when an outage occurs.
An obvious area to focus on and grow is with your mailing list. Newsletters are a great way to communicate with your customers on a more personal level, compared to engaging with your customers on social media. It is the perfect medium for communicating with your audience when something goes awry and to nurture trust.
Utilising monitoring services and forums such as Reddit will also help detect service issues quickly, ensuring you can deal with customer queries in a timely manner. It is crucial to provide clear communication and support when an outage occurs to mitigate your business being painted in a negative light through external sites.
The Resiliency of Affiliate Marketing
Yes, we may be a little biased, however, if the outage has taught us anything, it is to always look beyond the typical revenue streams. The beauty of affiliate marketing is its ability to pivot and adapt depending on cultural and economic shifts.
The cost-effectiveness of the channel is particularly perfect for SMEs. Publishers have a higher volume of visitors to their websites and the broad spectrum of publishers such as influencers, cashback sites, closed incentive groups and content producers ensures that advertisers can trial and perfect the right method of marketing with little risk. As such, the affiliate marketing channel accelerates businesses to scale up their brand and generate strong conversion rates.
The affiliate channel provides limitless opportunities due to the breadth of publishers available on the network, thus making it advantageous during a crisis or social media outage.
Key Takeaways
Diversify Your Channels – Putting all your eggs in one basket could be detrimental should anything go awry.
Own Your Customer Database – Whether you talk to your customer directly through newsletters or utilise CRM systems.
Explore options beyond the standard marketing mix – Affiliate marketing can open new revenue streams beyond typical social media marketing.
Content is king – Social listening is a great tool when dealing with a crisis.
Community is at the heart of your business – Your audience is your brand evangelist, nurture them. Treat them as such by communicating updates and being honest about the issue.
Develop a strong and robust crisis planner – The events of last night are hard to predict but putting in place a general crisis planner will help with messaging and producing relevant content. Putting processes in place in the aftermath is also crucial.
As this article highlighted, change is inevitable, and mishaps happen. If not handled in the right way, an outage may affect a brand's image. Ensuring that you continuously assess your marketing strategy, find new revenue streams and put in place crisis guidelines will ensure you thrive and survive.
Like what you hear?
Discover how to put your brand in front of millions of shoppers through high volume websites – Join Webgains and start your affiliate programme now.