Our Webgains Sports Bar was a huge hit at PI Live 2022 this year and our Shoot Hoops fundraising initiative was an even bigger success. Friends and partners of the Webgains affiliate marketing network took on the challenge of shooting as many hoops in as short time as possible, simultaneously raising money for charity.
Read on to hear from our top three players from the two days we spent at Old Billingsgate. They tell us what charities they've chosen to donate to and why.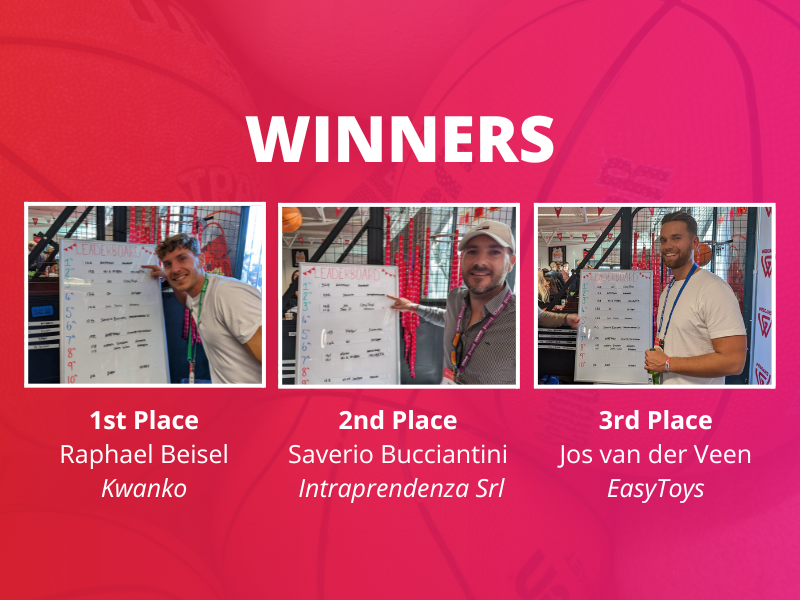 Image: Top three winners of the basketball game pose next to their score.
1st Place: Raphael Beisel – Kwanko
324 Points
£648 to be donated to EuroChild.
Eurochild aims to nurture children's happiness, health and self-esteem to ensure they grow into well-adjusted adults and respected as individuals in their own right. This charity is aims to bring about positive change to the lives of disadvantaged children through policy, research and influencing education and civil society capacity.
This is why Raphael chose to donate to Eurochild:
---
"The only way we can build a future we can rely on is by investing in our children"
---
In March 2023, Raphael will run a marathon in every country of the EU, to promote child integration along the way. Join RunForEurope here.
243Points
£486 to be donated to ACC Support UK.
Adrenocortical Cancer (also known as ACC or Adrenal Cancer) is a rare form of cancer that affects the outer part of the adrenal gland. It affects 1-2 people per million, per year. ACC Support UK exists to provide information and support services to ACC patients and their families, as well as carers. It is a joint venture between AMEND and Neuroendocrine Cancer UK.
Hear why Saverio chose to donate to accsuport:
---
"I really hope that this donation will help some people suffering from this terrible disease. Someone close to me passed away on 3 October and she was suffering from Adrenal Carcinoma"
---
3rd Place: Jos van der Veen – EasyToys
231 Points
£462 to be donated to Dance4Life.
Dance4Life works toward decreasing the rise and health threats that young people face today:
HIV
Unwanted Pregnancy
Sexual and gender based violence.
Lack of education and resources mean that millions of young people globally are practising unsafe sex and are at risk of limiting their future. Dance4Life informs young people how to make healthy sexual choices and develop healthy relationships through dance, music, and personal stories.
Discover why Jos chose Dance4Life:
---
"The mission of EasyToys is to break the taboo around sex and create sexual wellness for everyone. The goal of Dance4life is to make everyone's sex life safe and fun, which makes it the perfect fit for my charity pick."
---
Want to be part of a network that not only brings results but uses business as a force for good?