For any business wanting to build a successful affiliate programme, it is essential to understand the basics of affiliate marketing. This includes familiarising themselves with the major players involved – the consumer, the network, the merchant advertiser, and finally the publisher.
With a wide variety of publishers operating within the affiliate channel, we've created a series to introduce each of the main types, from cashback to content and many more between. Each affiliate type will be covered in its own dedicated post designed to provide a clear and concise information for those looking to increase their understanding of what affiliate marketing is and how it works.
What is a publisher?
Before delving into the ins and outs of social and content publishers, first we need to define what a publisher is and their role within affiliate marketing.
The publisher, also known as the affiliate, promote the advertiser's products or services via their websites. They can be either a single entity or an entire business. In most cases, these will be news outlets, bloggers or influencers that operate within a specific industry. Examples of publishers include Quidco and TopCashback. Influencers also often act as publishers in affiliate marketing.
They will aid in the promotion of the product or service, by producing content such as blog posts, videos, photography and other media.
They may also go a step further to promote their content by placing ads, driving SEO traffic, and cultivating email contacts. Publishers use affiliate links to track purchases made through their site and earn commission from the merchant. The main types of publisher, which will be covered in this series, are:
Voucher codes
Technology
Content and bloggers
Email and newsletter
Social media
Employee benefits
Price comparison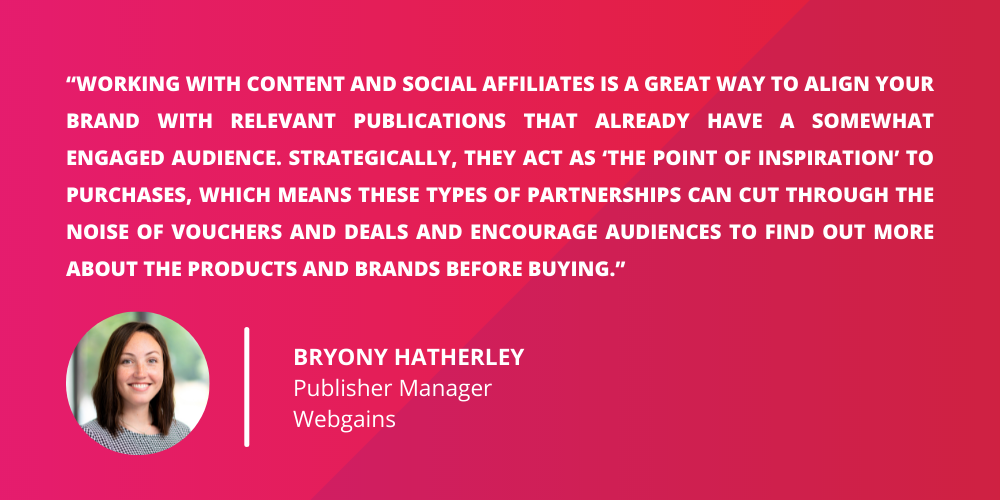 The influence of social and content publishers
The digital boom has led to the creation of a new breed of publishers who work within the sphere of influencing and producing content through social channels and online outlets.
Content and influencer publishers harness the power of social media as well as online sites and channels to build a loyal and engaged community. Their messaging and brand identity can sway their audience in making purchasing decisions. They monetise the traffic that comes to their site, channel, or account by sending users to an advertiser's page, usually via a banner or a text link.
CONTENT AND INFLUENCER PUBLISHERS HARNESS THE POWER OF SOCIAL MEDIA AND ONLINE CHANNELS TO BUILD A LOYAL AND ENGAGED COMMUNITY
Content publishers cover a wide range of topics, so receive a high volume of traffic. However, other content publishers who fit this category appeal to niche audiences or subjects, in which case the traffic volume tends to be lower, but the conversion rate is often higher.
Influencers are like content publishers in that they are split between two categories which serve different audiences and have varying levels of engagement and conversion – micro and macro.
Micro-Influencer: Micro-influencers have a smaller following, but their engagement rate is higher and of good quality. They are seen as 'community ambassadors' more than traditional influencers. They put their values and community front and centre, and are only interested in working with brands who share the same values and interests as their followers. This is what sets micro-influencers apart from their larger counterparts, their USP is due to their lived experiences and expertise, cultivating a loyal following.
Macro-influencer: An influencer who exceeds 10k+ following (typically from 40,000 to 1 million+). Their engagement is high but may not be as good in terms of quality. These influencers stem from the early years of the internet's inception. Many transitioned from traditional bloggers to multi-platform influencers with large audiences and impressive portfolios of brand collaborations.
Influencers tend to have their own style when it comes to creating content, so we recommend that advertisers approach this opportunity as a collaboration. As a business, always make your objective clear on what you want to achieve from the partnership.
In comparison to reward, cashback and loyalty publishers, content and social publishers are best suited for brand awareness and exposure.
Content and Social Publishers: Pros and Cons
Deliver brand awareness and endorsement
Drive traffic through affiliated links and unique content that looks organic and non-invasive to the customer journey
High engagement from specific target audiences
Effective for start-ups and small businesses in saturated markets of products and services
Deliver unique and detailed content – Shine through traditional marketing tactics and offer a fresh perspective
Add credibility to brands
Generate Leads – Content
The starting point of the customer journey
Grow your social following, especially through tagging and spotlighting in features such as Guides, Stories, and Reels on Instagram
Often deliver lower volumes than other affiliate types
Can be time consuming to work with
Are not always as familiar with affiliate marketing from the get go
Possibility of negative reviews being published
Can be biased to certain brands and products
Recruitment can take longer for these publishers
Often work on a CPM/CPC basis (rather than CPA)
Lower conversion rates compared to other types as people aren't typically in buying mode, these affiliate types serve more as the 'point of inspiration'
Example Affiliates
Content – Future Publishing (Marie Claire, TechRadar), ShopStyle, Mumsnet
Social – Reward Style, 21 Buttons

Promote your products with content & social publishers