Article by Bryony Hatherley, Publisher Manager, Webgains.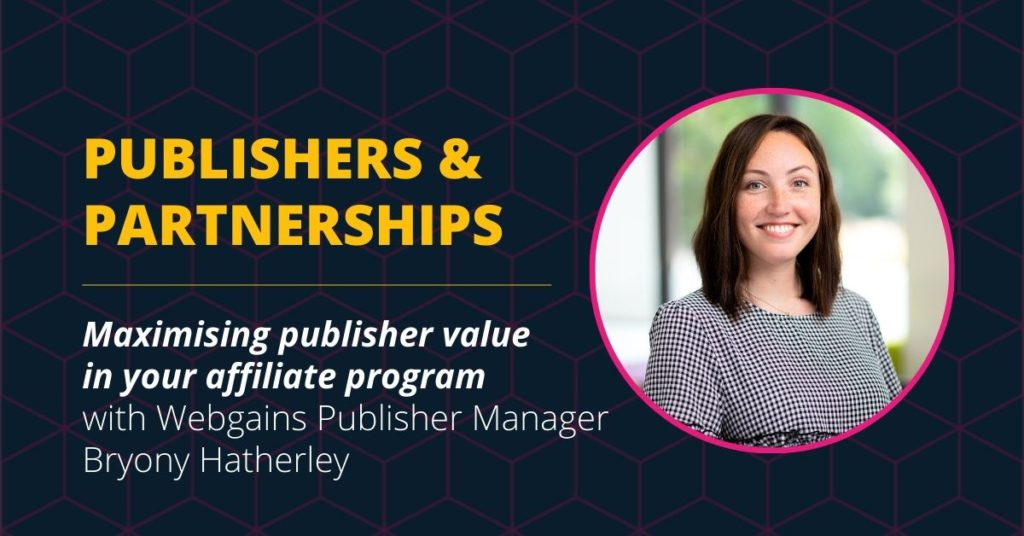 There's a common misconception that exists amongst some advertisers: that running an affiliate program is as simple as joining a network, setting a commission rate, onboarding some publishers, and allowing the program to run.
This set up may drive results for some, but in the long term, it won't provide sustainable growth. It would be doing an injustice to the evolution of the affiliate channel and the value it's able to deliver.
To run a successful affiliate campaign in a highly competitive market, the key stakeholders involved must build and continually enhance partnerships with a wide variety of publishers.
Keep reading this article to learn how to create long-term partnerships with publishers and ensure that your program is robust and adaptable in the face of changing circumstances and economic conditions.
Diversify your publisher mix
I believe that the most efficient and foolproof way to run an affiliate program is by integrating a diverse mix of publishers within the client's strategy. The main reason for this is to ensure there is no reliance on one publisher type for performance and sales should something go wrong.
Secondly, by working with a varied group of publishers, you may find they bring value to a program in different ways:
Some may be great at achieving more volume
Others may be best at increasing order values
"All publishers that you work with must be entirely relevant, produce an ROI that meets client KPIs, and deliver incremental value to instil confidence in the longevity of these partnerships."
Understanding value and measuring success
There are more publisher opportunities than ever – with the likes of Open Banking and Buy Now Pay Later companies venturing into the space with cashback and content capabilities – so the breadth of opportunities for advertisers are vast.
The traditional publisher types are continuing to diversify their promotional methods via social channels, whilst newer publishers need to demonstrate the value that they can bring to an advertiser by lowering the cost for them to utilise their platform.
This is particularly important in this current climate where advertiser budgets are under constant review and focus is concentrated on running activity where the greatest returns can be seen quicker.
"I also appreciate that defining value is subjective, but there are some elements to consider when deciding on suitable publishers for an advertiser program."
Three main elements to decide a suitable publisher
1. Find publishers that introduce the brand to a highly relevant audience
Securing visibility to key demographics that positively respond to the brand is a crucial element to getting results. Oftentimes, these customers will return to the publisher and the brand again (and again), especially if the partnership is continually optimised.
For example, exclusive codes will keep audiences gripped with an offer they can't find elsewhere, and put an onus on publishers to keep traffic, volumes and sales going up for the partnership to continue.
2. Identify publishers that drive sales from "harder to reach" audiences
Some publishers will be lucrative in securing customers that may be in the market for a highly specific product. The likes of CSS and specialist content publications or influencers can be crucial if the advertiser wouldn't typically get results from large reaching incentive publishers.
You can find out more about publishers who specialise in reaching niche groups in this article.
3. Benchmarking performance
Benchmarking performance is a great way to measure and optimise your publishers. If the advertiser average conversion rate is 3.5%, you can benchmark the performance of different publisher types to compare the conversions vs. other digital channels.
It's not surprising to find publisher types like cashback, closed user groups and voucher converting at much higher rates due to the nature of where the customer is in their decision making when on these sites.
With this data, you could further benchmark the performance by comparing publishers of the same type together to identify the key publishers to optimise and invest tenancy with.
If a publisher CVR sits between 5%-10% it's typically a sign of a well-functioning program, and advertisers should make sure to optimise their campaigns, offers and creative with these publishers in the lead up to peak trading periods.
Summary
Let us not forget, that partnerships are a two-way street, and the perfect partnership requires communication from both sides to be successful.
"Advertisers must outline their goals and expectations, and the publisher is responsible for showcasing the advertiser's message to their audiences."
If they can effectively produce results, the advertiser is more likely to spend again and look to build up that long-term partnership, but it must be based on regular communication, reliability and delivering valuable customers.
The more solid and dependable these partnerships become could lead to wiggle room on costs, and the overall support and exposure that the publisher can offer the advertiser on a long-term basis.
Strong partnerships are at the heart the affiliate channel and the Webgains. If you'd like to build profitable publisher partnerships, please sign up to our network here.