Article by Alona Malinovska, UK Managing Director, Webgains.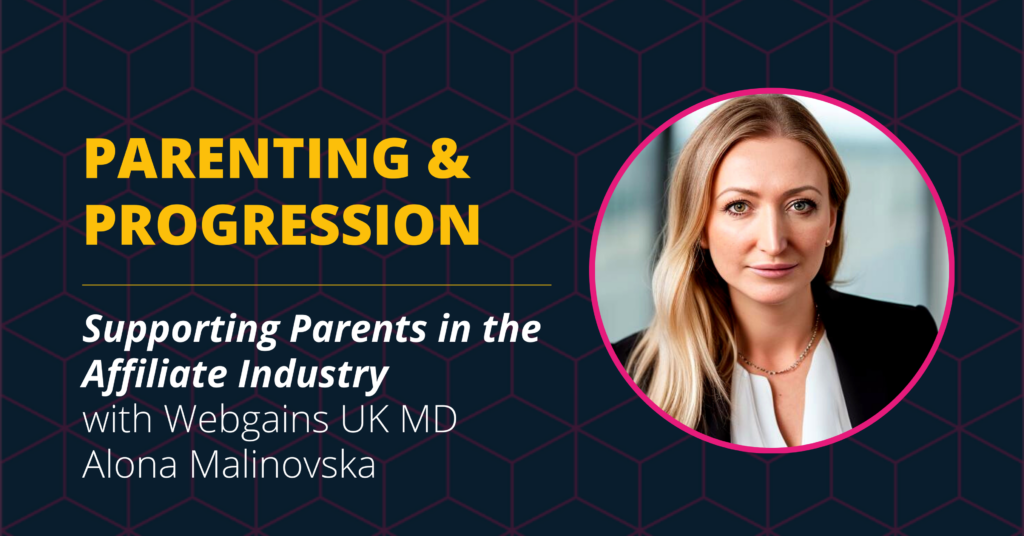 Back in April at the Affiliate Huddle conference, I hosted a live discussion with Emma Struggles, Chris Turner and Jack Davies. All four of us are parents forging careers in the affiliate channel, coming together to share our thoughts and address some very tough questions on the topic of parenting and career progression in affiliate marketing.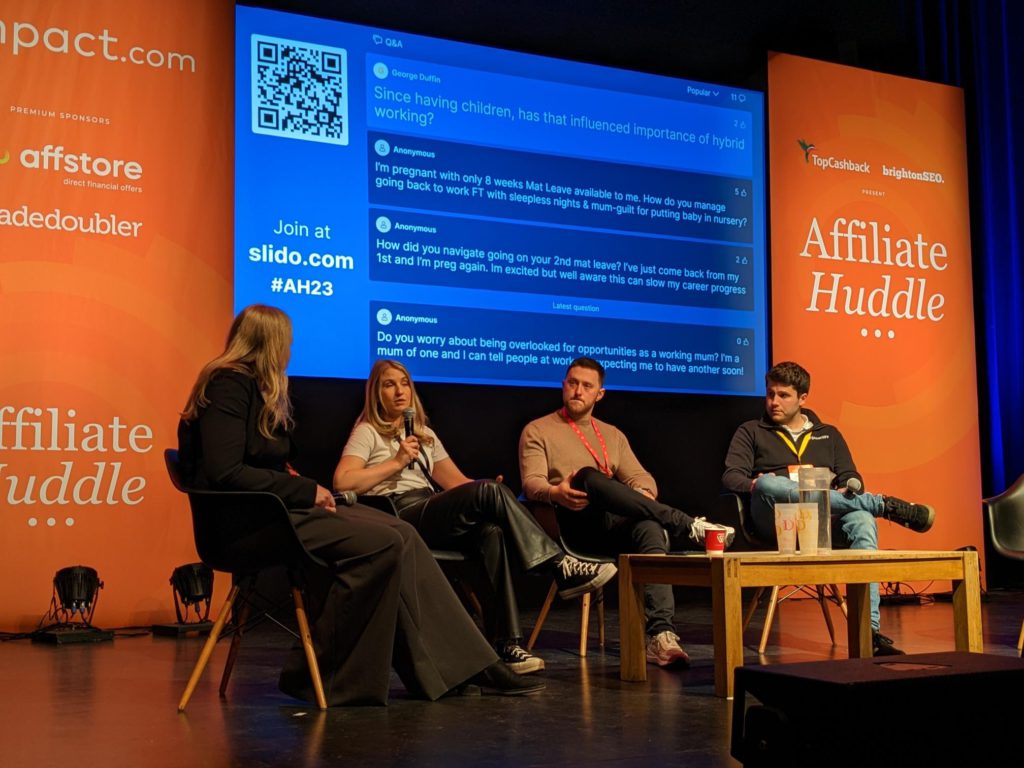 Emma – Affiliate Associate Director at MediCom – highlighted the importance of continuing to push it further:
"With workplaces having evolved to be more flexible and hybrid working becoming the norm, there's still plenty we can be doing. For example, to ensure this is equal across the channel, and that managers have training available to them to give as much support as possible."
Radical honesty
Awareness within leadership teams is such an important point. Before becoming a parent, I had a lot of blind spots, not understanding fully the scope of challenges working parents face every day. Besides the formal training and continued development of suitable support systems in a workplace, I am now convinced it's crucial to nurture an environment where our team members are comfortable talking about their day-to-day battles, no matter how trivial they might feel.
Often minor improvements make a huge difference. For example, I returned from maternity leave when my son was four months old and decided I wanted to keep breastfeeding. In London, at the time, our office didn't have family rooms. For me, this meant I had to use WCs to pump – a rather dreadful experience!
I now know we need to install blinds in the meeting rooms in our offices. It's a simple solution that will hopefully help new mothers at Webgains breastfeed longer if they choose to do so.
But unless the company culture encourages open and honest conversations, it's very difficult to uncover problems like this because-
"You don't know what you don't know."
Staying in the game
Many mothers at Affiliate Huddle spoke about being overlooked at work. Some guests shared that their colleagues and managers tended to assume that working mothers are likely to have another child soon and so career opportunities are given to their childless colleagues instead.
Whilst there's a lot of progress made in promoting inclusivity in the UK affiliate industry, we shouldn't take it for granted.
"Unfortunately, many working mums still face biases that hinder their professional growth."
To effectively address the painful issue of fair treatment and career opportunities for working mothers, a multi-faceted approach is necessary. The shift starts at the top, with leadership teams committing to an environment that values diversity. By setting the tone and leading by example, senior management can inspire positive organisational change.
Parenting in the affiliate industry
At Webgains, we take charge and nurture a culture where parents are equipped to succeed.
The pandemic changed life as we know it, especially when it came to the sudden end of childcare for many families. We recognised this huge issue quickly and created a parenting support network designed to connect new parents with more experienced colleagues who have successfully navigated similar problems.
In parallel, we launched a wider mentorship program designed to provide career advice and foster a sense of community. The program, still ongoing, is open to everyone at Webgains and we now have many examples where the tailored coaching helped working parents to excel in their profession.
Additionally, initiatives such as flexible working, remote working, company-wide workshops on unconscious bias, effective feedback, and emotional intelligence form a system that helps Webgains team members in finding a sustainable way to succeed at work without sacrificing their personal life.
As Chris – Head of Client Success at gocertify – said at Affiliate Huddle:
"We're fortunate to work in such a flexible industry, and so many great steps have been taken such as hybrid working, but this really is just the start."
Final word
It's never a finished project though. Regular informal conversations with our team members alongside anonymous company surveys allow us to keep building and improving set-ups that support all groups at Webgains in a fair and relevant way.
Personally, I am just at the beginning of my parenting journey, and so I have more questions than answers. The quest of balancing parenting and work responsibilities comes with a steep learning curve.
The caring work environment that we cultivate at Webgains makes it so much easier.
Outside of work, surrounding myself with a strong network of family, friends, and fellow parents who understand and go through a similar life path is a must for me. Every day I learn to lean on them for emotional support, advice, and practical help.
Finally, I am practising letting go of ideals and instead striving for consistent progress. Work-life balance for me is often about modifying original plans and building flexibility and resilience muscle while getting things done.
"What I've learned so far is that with the right mindset, strategies in place and a robust network of support, it's possible to sit at the professional table whilst raising a happy child. I am passionate about making sure the parents of Webgains feel the same."
If you'd like to progress your career in affiliate marketing with Webgains or learn more about our progressive approach to inclusivity and diversity, please contact our HR team – uk-hr@webgains.com.