For any business wanting to build a successful affiliate programme, it is essential to understand the basics of affiliate marketing. This includes familiarising themselves with the major players involved – the consumer, the network, the merchant advertiser, and finally the publisher.
With a wide variety of publishers operating within the affiliate channel, we've created a series to introduce each of the main types, from cashback to content and many more between. Each affiliate type will be covered in its own dedicated post designed to provide a clear and concise information for those looking to increase their understanding of what affiliate marketing is and how it works.
Before delving into the ins and outs of social and content publishers, first we need to define what a publisher is and their role within affiliate marketing.
A publisher (sometimes referred to as the affiliate) is the creator of content and marketing. The publisher landscape ranges from individuals to big corporations. They are one of the key components of affiliate marketing this term can cover a whole range of different people, sites, and other online offerings.
In terms of affiliate marketing, publishers act as a virtual salesperson. They promote affiliated products to attract potential customers to buy a specific product in return for compensation based on their performance is.
A publisher is an important part of how affiliate marketing works – a publisher is the source of traffic, engagement, and sales. There are a wide variety of publishers within the affiliate marketing network, each making a valuable and unique contribution, below are the top categories:
Voucher codes
Technology
Email and newsletter
Employee benefits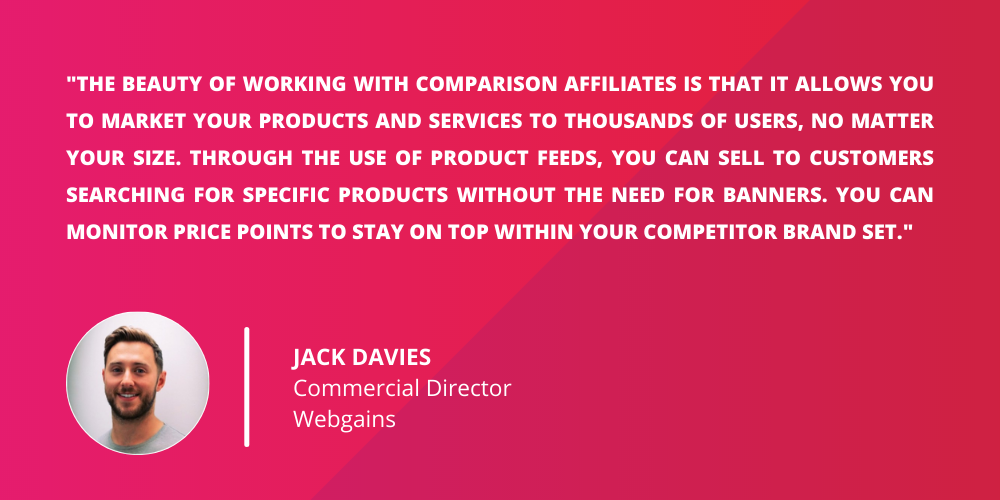 The value of price comparison publishers
Price comparison websites provide choice to shoppers by comparing the prices of products and services from different advertisers in the same vertical. You're most likely to find these publishers for specific sectors such as, insurance and travel. Price comparison websites compare the price of a product or service alongside their competition so the customer can select the business that best fits their needs.
Although price comparison sites don't supply these products or services themselves, they are affiliates to the brands by marketing their products for them. ​​ In order to work with Price Comparison affiliates, merchants are required to have good product feeds and be willing to meet their minimum CPA requirements.
---
IN ORDER TO WORK WITH PRICE COMPARISON AFFILIATES, MERCHANTS ARE REQUIRED TO HAVE GOOD PRODUCT FEEDS AND BE WILLING TO MEET THEIR MINIUM CPA REQUIREMENTS
---
Key Metrics to Consider
There will be fewer than five comparison sites contributing any significant sales to a programme.​
Approximately 10% of sales on an affiliate programme will be generated by comparison sites. This could be much higher for certain advertisers in specific sectors.
Comparison sites will often look at a programme's earnings per click (EPC) to measure its potential.
Conversion rates for comparison partners should be broadly in-line with what advertisers see on their sites. Advertisers with less price competitive products should expect a higher effective cost per acquisition (CPA) for these affiliates.
---
APPROXIMATELY 10% OF SALES ON AN AFFILIATE PROGRAMME WILL BE GENERATED BY COMPARISON SITES
---
Content and Social Publishers: Pros and Cons
Strong conversion rates – Customers trust comparison sites and are more likely to purchase from brands they have never considered before if found via this channel
High average order values (AOVs) due to competitive pricing
Drives traffic and builds brand awareness
Partnering with them via an affiliate network dedupes across affiliates, meaning that you don't pay twice
Comparison affiliates will only perform well for advertisers with price-sensitive products. Advertisers that aren't price competitive can expect either low engagement from these affiliates, or a large amount of traffic that may fail to convert to sales
Highly selective with advertisers they display on
Works mainly on CPC basis
Example Affiliates
Pricerunner
Kelkoo
Shopzilla
Money Saving Expert
---
Promote your products with content & social publishers