Article by Jack Davies, Commercial Director at Webgains.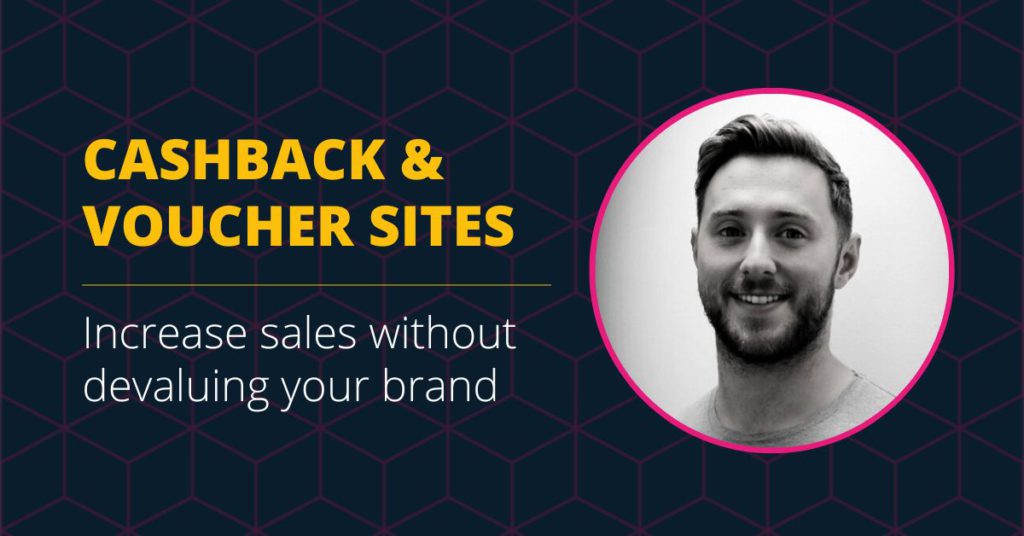 As I highlighted in my previous blog article, affiliate marketing will prove to be many brand's most powerful tool when it comes to driving traffic, increasing sales, and boosting customer loyalty.
To delve further into how this might be accomplished, let's focus on a couple of core affiliate types: cashback and voucher. Both offer super effective methods to reach customers in a new way. Cashback and voucher sites provide an incentive for customers to purchase from your company, making them a great addition to any affiliate programme.
Let's explore how you can use cashback and voucher websites to increase the value of your affiliate marketing strategy.
Cashback and voucher websites are a great way to increase brand awareness and generate leads. However, when used incorrectly, they can have the opposite effect and actually devalue your brand's reputation. So, how do you get the most out of cashback and voucher sites without compromising your brand's value?
What are cashback and voucher affiliates?
Cashback and voucher affiliates are websites that offer discounts on products or services when customers purchase through the site. These sites typically partner with e-commerce stores, travel providers, telecom companies, hotels and more. Customers who purchase through these sites receive a percentage of their money back in the form of cash or vouchers. This incentivises customers to shop through the cashback site instead of directly with the merchant.
Optimising your brand's presence on cashback and voucher sites
Once you've identified the right websites for your goals, it is important that you optimise your presence on them. Make sure that all of the information about your company is up-to-date and accurate so customers know what kind of business they are dealing with. Additionally, create engaging content that will entice users to click on your offers and visit your store. Finally, ensure that any discounts or vouchers available through the affiliate site are attractive enough so that customers want to take advantage of them.
Incrementality of cashback and voucher sites
A major benefit of using cashback sites is that they drive incremental value through conversion uplift. This specifically applies in the case where customers who use these sites would not have completed their purchase if it were not for the discount or incentive provided by the cashback site. Since the majority of these customers are new to your website, there is potential for them to become repeat customers in the future as well – meaning more revenue for your business! Additionally, having partnerships with popular coupon websites can also help build brand awareness amongst new audiences who may not be familiar with your brand yet.
Having partnerships with popular coupon websites can also help build brand awareness amongst new audiences who may not be familiar with your brand yet.
Cashback and voucher websites can be an effective addition to any affiliate network strategy; providing increased visibility into new markets while also offering additional income streams through commission payments for purchases made via their links. By leveraging this type of marketing programme properly, retailers can unlock valuable results such as increased brand awareness, customer loyalty, and increased profits. The key is understanding how best to leverage cashback and voucher partners so that they truly provide value both short and long-term. It requires careful planning but can make all the difference in achieving success in today's digital marketplace.
Summary
Cashback and voucher sites can be beneficial for businesses if used correctly. They can increase visibility for companies by allowing consumers to easily find their offers online. However, businesses need to have a strategic approach when leveraging these websites – setting clear goals and optimizing their presence on the web site – in order to get the most out of them without devaluing their brand's reputation. With a well-thought-out plan in place, businesses can use cashback and voucher sites effectively while still maintaining their brand value in the marketplace.
By carefully crafting campaigns around cashback and voucher sites using data-driven decision making, marketing and e-commerce directors can leverage these powerful platforms whilst ensuring that their brand's integrity remains fully intact.
---
If you would like to learn more about Webgains or understand how we can help your brand partner with cashback and voucher sites, please get in touch – jdavies@webgains.com.