For any business wanting to build a successful affiliate programme, it is essential to understand the basics of affiliate marketing. This includes familiarising themselves with the major players involved – the consumer, the network, the merchant advertiser, and finally the publisher.
With a wide variety of publishers operating within the affiliate channel, we've created a series to introduce each of the main types, from cashback to content and many more. Each affiliate type will be covered in its own dedicated post designed to provide clear and concise information for those looking to increase their understanding of what affiliate marketing is and how it works.
What is a publisher?
Before delving into the ins and outs of voucher code publishers, first, we need to define what a publisher is and their role within affiliate marketing.
A publisher (sometimes referred to as the affiliate) is the creator of content and marketing. The publisher landscape ranges from individuals to big corporations. They are one of the key components of affiliate marketing this term can cover a whole range of different people, sites, and other online offerings.
In terms of affiliate marketing, publishers act as virtual salespeople. They promote affiliated products to attract potential customers to buy a specific product in return for compensation based on their performance.
A publisher is an important part of how affiliate marketing works – a publisher is the source of traffic, engagement, and sales. There are a wide variety of publishers within the affiliate marketing network, each making a valuable and unique contribution, below are the top categories:
Technology
Email and newsletter
Employee benefits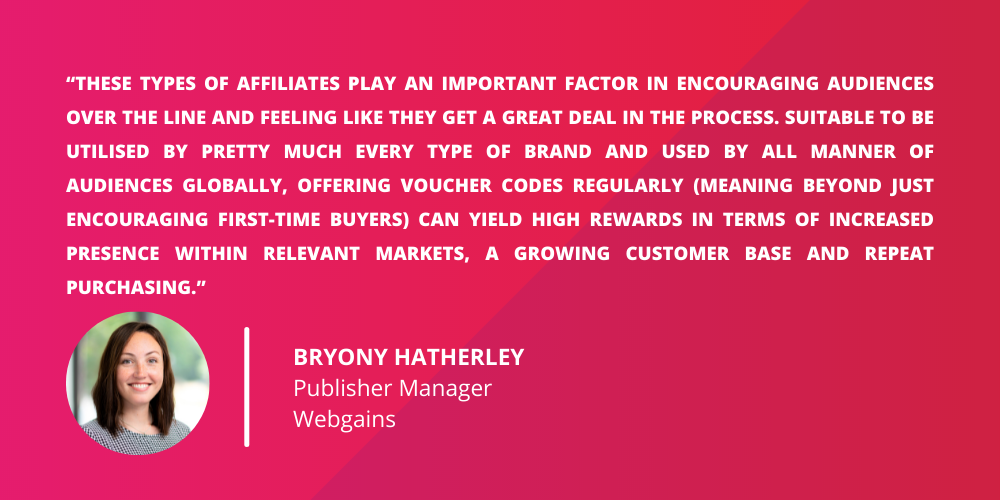 The Domination of Voucher Code Affiliates

Discount or voucher site affiliates run websites that publish promotional codes, which can be used to receive a discount on the advertiser's site. These discounts can be in the form of a set percentage, an additional gift, a promotion code or free shipping (among other incentives).
Advertisers working with voucher code sites can benefit from reaching large audiences, acquiring new customers, as well as increasing Average Order Value (AOV). Voucher code sites are a great opportunity to attract new customers. In fact, according to Shopper.com, 28.6% of consumers search for a discount code almost every time they make an online purchase. Not all voucher and discount sites look the same, many cater to specific audiences and closed groups. Finding the right niche within this publisher type will add to your KPIs and growth goals.
The best way to engage with this type of affiliate is to offer an exclusive code, PPC rights and/or invest in tenancy to optimise exposure across various channels i.e., on-site, newsletters, SOLUS emails and social media.
---
Advertisers working with Voucher Code Sites can benefit from reaching large audiences, acquiring new customers, as well as increasing Average Order Value (AOV).
---
Voucher Code Publishers: Pros and Cons
Attract new customers and increase revenue 
Gain market share 
Customer retention 
Data capture and personalisation 
Gamifying the buying journey to incentivise and reward customers 
Great way to liquidate unwanted stock  
Strong SEO ranking that puts you in front of a wider audience 
Increase AOV with stretch and save codes 
Cut into profits
May cannibalise existing revenue
Reduce the value of product or service
Be exposed to fraud
Can be a race to the bottom for highly competitive verticals
Customers may wait for exclusive coupon drop before purchasing (think basket value)
Example Affiliates
Vouchercodes
Vouchercloud
Myvouchercodes
Voucherbox
Global Savings Group
Savoo
Savings United
Hot UK Deals
Go Groopie
---
Promote your products with Voucher Publishers