Q4 is the time when online trading is at its peak. This was further intensified during the COVID-19, which bought about a boom in e-commerce trading with high streets off limits and online shopping filling the void in a big way. As the economic effects of the pandemic catch up with us, today's retail landscape does look a little different. But there's still great promise of boosting your sales for what is left of 2022.
Affiliate marketing is the underpinning of a recession-proof business model. From inflation to the rising cost of living, there are several savvy ways to boost your end-of-year sales. Read our guide to maximise what may be a minimal spend holiday and sale period.
Overview
Early Campaign Planning
With the increased cost of living reflected in price tags, consumers are adapting their spending by diligently and routinely searching for the best prices and offers. Reflecting this, impulse purchases are declining. The search for the right gift is now based on price, more so than in previous years compared to recent years, bringing forward Christmas shopping to mid-September.
This shift in behaviour means planning your affiliate campaigns earlier is essential. Secure coveted spots and plan your offers and Christmas promotions with your top affiliates.
Below are the recommended steps to take for a successful Q4:
Use your internal marketing calendar to plan campaigns and promotions.
Increase your visibility by aligning activities and promotions.
Invite relevant Publishers to promote your affiliate programme.
Premium placements with publishers are often booked 4 weeks before Q4, so good preparation is everything for a successful peak trading period.
Decide which products in your store are going to be the difference-makers this year.
Define your delivery options and set a final order date for timely delivery by Christmas Eve, including free and paid options, possible in-store pickup of the ordered goods, international delivery and gift wrapping.
Low Risk, High Return
As mentioned earlier, affiliate marketing is a channel that is considered recession-proof. According to this survey run by IAB UK, affiliate performance increased by 56% net during the COVID-19 pandemic. By proxy, the affiliate channel is incredibly resilient and adaptable for many unforeseen factors.
The beauty of affiliate marketing is the paid-on-performance model. Merchants only pay out to affiliates when that affiliate gets them a sale. This model ensures that affiliate marketing activity is low risk with fast ROI, making it accessible to smaller businesses looking to scale up.
Mark Your Key Dates
Q4 is chocka with key dates. From Singles Day to Black Friday and Cyber Monday to the Christmas Bank Holidays. It can be easy to feel overwhelmed by the multitude of events and national holidays. Below are our top four dates to mark in your calendar: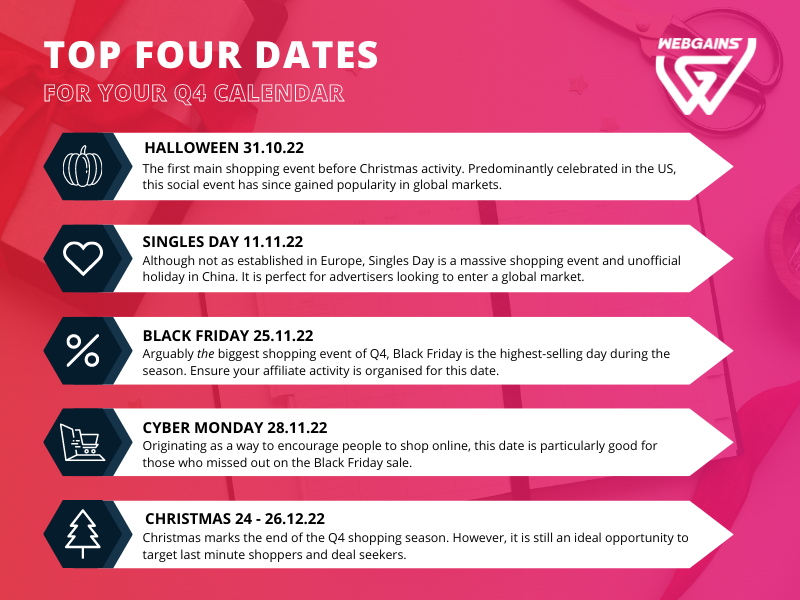 Top Tips to Maximise Your Growth
Optimise Your Product Data Feed
Ensure your product data feed is updated with current prices and availability.
To highlight your Q4 bestsellers, an additional feed would be beneficial.
Special placements
To get the best ROI, we recommend booking special placements with the best publishers.
There are typically three possibilities: Banner, Email Marketing and Placement on pages around Christmas and Christmas holidays.
Some publishers also offer options for content, contests, and social media placements that can be negotiated as an extra.
Create Advertising Material
Create advertising material to match your campaigns and promotions.
Make your advertising materials, banners, text links, coupon codes and promotions available early.
Prepare product-specific banners as they achieve higher click-through rates than generic banners.
Create text links for each of your product categories, as well as for specific events and occasions.
Calendar reminders help you remember regular updates to your banners.
Motivate your publishers
Q4/Q1 is the time to get special placements with publishers, as well as, commission increases and/or exclusive coupon codes.
Commission increases can help promote certain products or generate new customers.
In addition, a voucher, coupled with a minimum order value, can increase the shopping cart value.
Key Takeaways
From SMEs to established retailers, Q4 is an exciting but busy time when it comes to organising campaigns and booking affiliate spots. We have put together a nifty checklist to help you prioritise your Q4 tasks for campaign launch. Following these top tips will help maximise your revenue and build brand awareness this holiday season.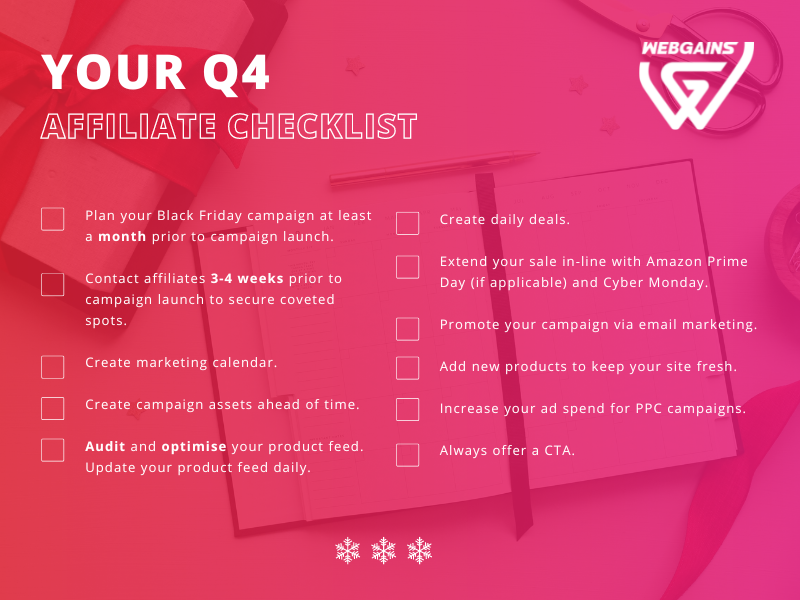 ---
Want to push the success of your end-of-year business with affiliate marketing? Join Webgains Affiliate Network.