On Wednesday 27th October 2021, Instagram announced that it was expanding its outbound links in stories to everyone. This is a major move for the leading social media platform and reflects its current creative direction of equity, expression and enablement. We are now in the peak time of year where ecommerce booms with the holiday promotions and sales back-to-back. 'Tis the season to leverage the power of affiliate marketing.
Within this guide we will cover what you need to know to monetise your social networks with the help of affiliate marketing and affiliate links.
A Brief Overview of Instagram & Pinterest Affiliate Links
For a long time, the 'swipe up' function on Instagram allowed users with verified accounts, or who have reached the 10k follower milestone, to incorporate affiliate links. This has now changed due to Instagram's three pillars of equity, expression, and enablement, thus opening up the opportunity to monetise content and products to all.
A recent statement on Instagram's blog said that the change was made to introduce new ways creators and businesses can grow their reach and engage with their community. After listening to user feedback, Instagram aims to further support small businesses and influencers to turn their passions from side-hustle to fully fledged business operation, by integrating affiliate links and many other interactive stickers.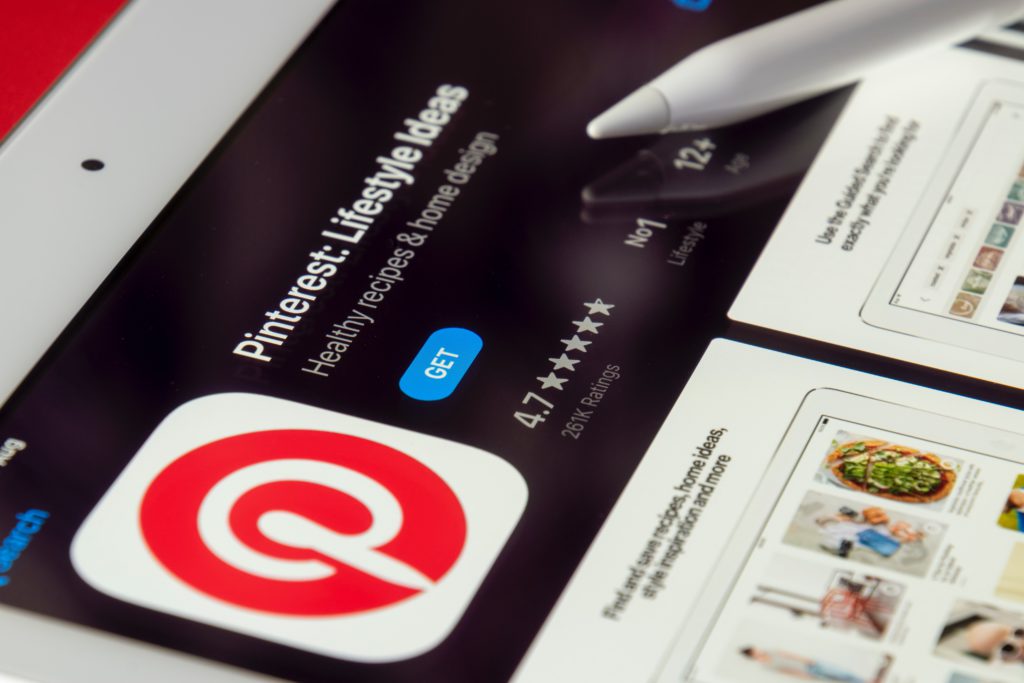 Pinterest, on the other hand, is renowned for acting as a visual search engine akin to Google. This platform is the strongest for boosting brand awareness and driving referral traffic to your website (oftentimes organically). Its introduction of shoppable pins and affiliate links in July 2021 aims to provide new partnership opportunities for the Pinterest creator community.
Benefits of the Affiliate Link
Pinterest's growing platform means that these changes will give creators the power to turn inspiration into conversion. A pin's typical lifespan is 3.5 months, monetising your pin will ensure reach and engagement which will turn into conversion.
---
Pinterest's growing platform means that these changes will give creators the power to turn inspiration into conversion
---
Instagram's new link sticker provides greater control of the placement of the affiliate sticker, maximising engagement and increasing a direct line to your audience. No longer are creators limited to the 'link in bio' option.
What is Affiliate Marketing?
Before we explain how to integrate the affiliate link features, here's a little introduction to affiliate marketing and how this performance-based channel can work for those who are new to the sector.
Affiliate marketing is performance-based marketing in which a business rewards one or more affiliates on an agreed action through the affiliates own marketing efforts.
---
Affiliate marketing is performance-based marketing in which a business rewards one or more affiliates on an agreed action through the affiliates own marketing efforts.
---
The affiliate network connects advertisers and publishers, as well as, tracking the affiliate links and validating sales. Affiliate marketing works on a cost per acquisition (CPA) model meaning that when the desired action is completed, be it a sale or lead, the publisher is rewarded.
It is important to note that the affiliate marketing industry has four core players, this is especially handy when understanding where you fit into the affiliate mix:
Want to learn more about affiliate marketing?
Download our free beginner's guide.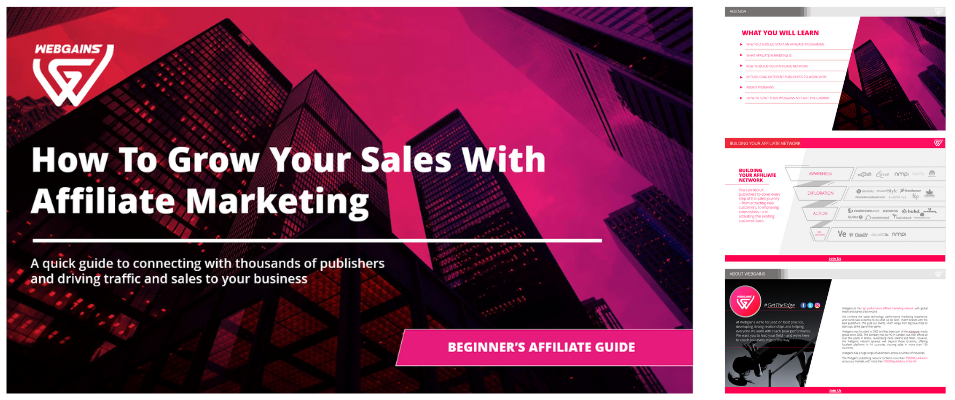 Sometimes referred to as the affiliate.
The publisher is the creator of the content and marketing. The publisher landscape ranges from individuals to big corporations.
A publisher promotes affiliated products to attract potential customers to buy a specific product.
Also known as the merchant, brand, retailer, or vendor.
The advertiser is the creator of the product or service. The advertiser can range from small to large companies to entrepreneurial individuals.
The aim of the advertiser typically involves targeting potential customers to drive more sales, converting them to loyal customers. Working with publishers allows the advertiser to meet set KPIs whilst raising their profile and gaining visibility on multiple platforms.
The consumer (or customer) is key to what makes the affiliate process happen. Without the consumer, there are no sales, no commission, and no revenue to be shared.
To learn more about affiliate marketing, enrol to our free introductory course on the Webgains Academy.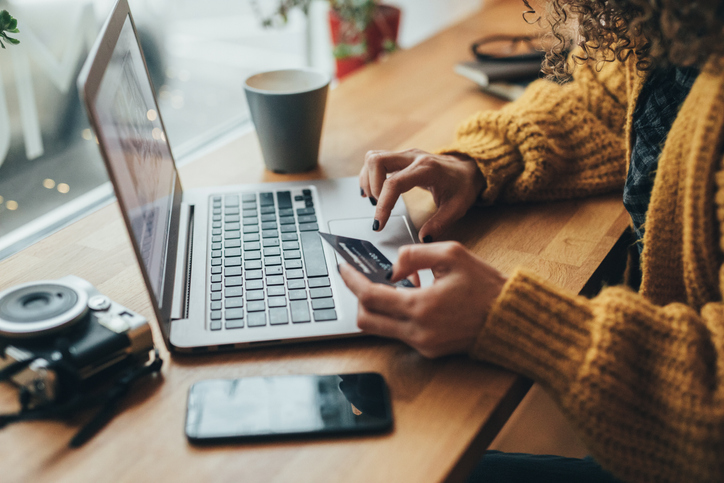 Best Practice for Publishers
In this peak period for purchasing, we advise publishers to align their content with relevant brands and join their affiliate programs to promote their products or services on their website or social media. However, publishers will need their own affiliate accounts to start this process. Follow our steps below to discover how to monetise your content:
Once you have created an account with Webgains and supplied all the relevant information including logo and a detailed description of what your site does (the more detail provided and clear audience alignment, the more likely the brand is to approve your application).
You can now create affiliate links on our network. These links get placed into content and are how you are rewarded for sales driven for a brand.
Once you have joined a brand's program, create these links or use banners (dependant on their promotion preferences).
You can either enter the homepage URL or a specific product page URL from the brand's site, and a link is generated that includes all the relevant information for us to track and record the clicks and sales generated from this link. This data is recorded in the network and can be viewed in reports by the publisher and brand.
Wherever the brand is mentioned, the publisher simply hyperlinks this tracking link and the reader will be taken to the brands site to make the purchase.
Once a purchase is made, the publisher is rewarded a commission from the brand (following a validation process) and payments are made through the network.
If publishers are using the link in a place where it is visible, such as on Facebook or Twitter, we would strongly recommend using the 'Shorten URL' function underneath the deep link generated, which will make the link more presentable to a customer.
Join Webgains to earn commission from these advertisers and over 1800 others
Many of our advertisers see a spike in sales during Q4 due to events such as, Black Friday, Cyber Monday, gifting and shopping for social events. Below are a few examples of the advertisers that we think would be great to work with at this opportunistic time of year.
Click on any logo below to learn more about their affiliate programme and to join Webgains to promote their products on your social media.
In Summary
Instagram's introduction of outbound links for all and Pinterest's unassuming power to convert are tools to be leveraged within the affiliate marketing mix. To make the most of this opportunity:
Sign up to Webgains – it's totally free to join as an affiliate.
Ensure your application provides a clear and concise description of your audience.
Apply to join the programmes of the advertisers linked above or search Webgains for some other brands that you think you are well placed to partner with.
Once you have been accepted onto an advertiser's programme you can create your affiliate links and/or banners.
Links can be to a specific product or to the brand's homepage.
If possible, always shorten your affiliate links where they are visible to make them more attractive.
Add links to your social media posts and profiles.
When your your links and clicked by a user and that user goes on to make a purchase, you'll earn commission from the merchant.
Once the sale is validated by the merchant, you'll be paid through the Webgains network.
We work with 1,800 Advertisers globally, if you'd like to harness the power of affiliate marketing within your Instagram stories and Pinterest assets, sign up using the button below.