Q4 is upon us. For many of us, this is the busiest time of year, giving the gift of brand exposure and revenue. Whether you're an experienced advertiser or new to affiliate marketing, this season can feel overwhelming and a challenge to manage.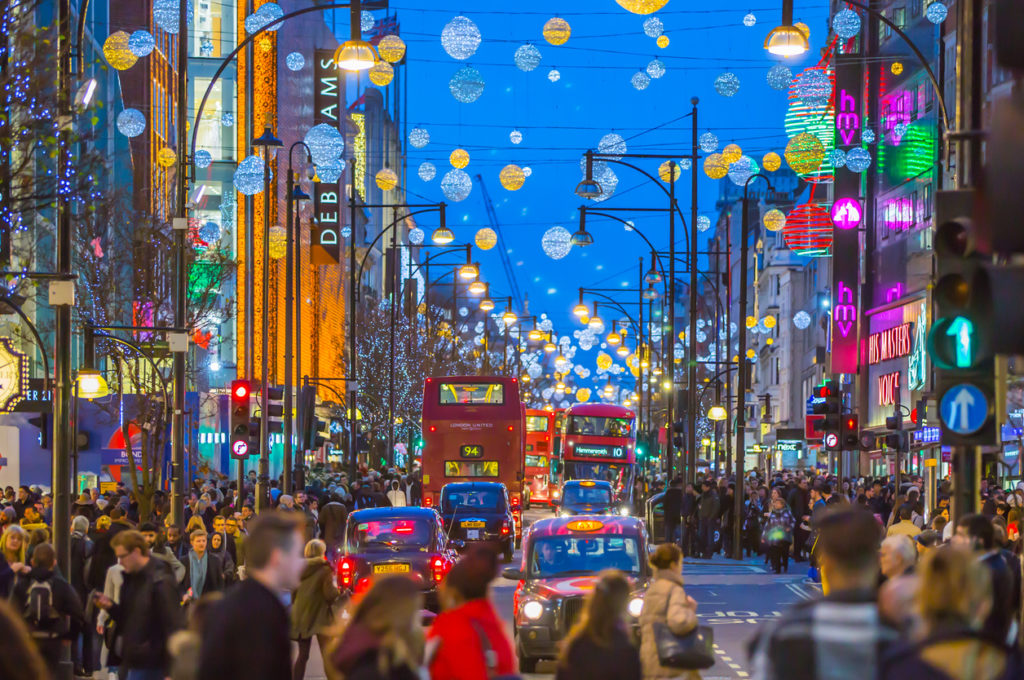 Despite the events of 2020, Black Friday, Cyber Monday and the Christmas sales are still set to be peak times for merchants and publishers alike. A time when consumers will spend heavily and fervently seek out the best deals. In fact, John Lewis reported a surge (105% uptake) in online searches for its festive products, doubling last year's record high and swaying the retailer to open its Christmas shop four months earlier than usual. Preparing in advance gives you the advantage of securing coveted spots with affiliates; finalising hero products, promotions and creative assets ready for launch.
Here at Webgains, we want to give you the edge this quarter by sharing seven of our top tips to help you reach maximum results with minimum stress for your Q4 campaigns.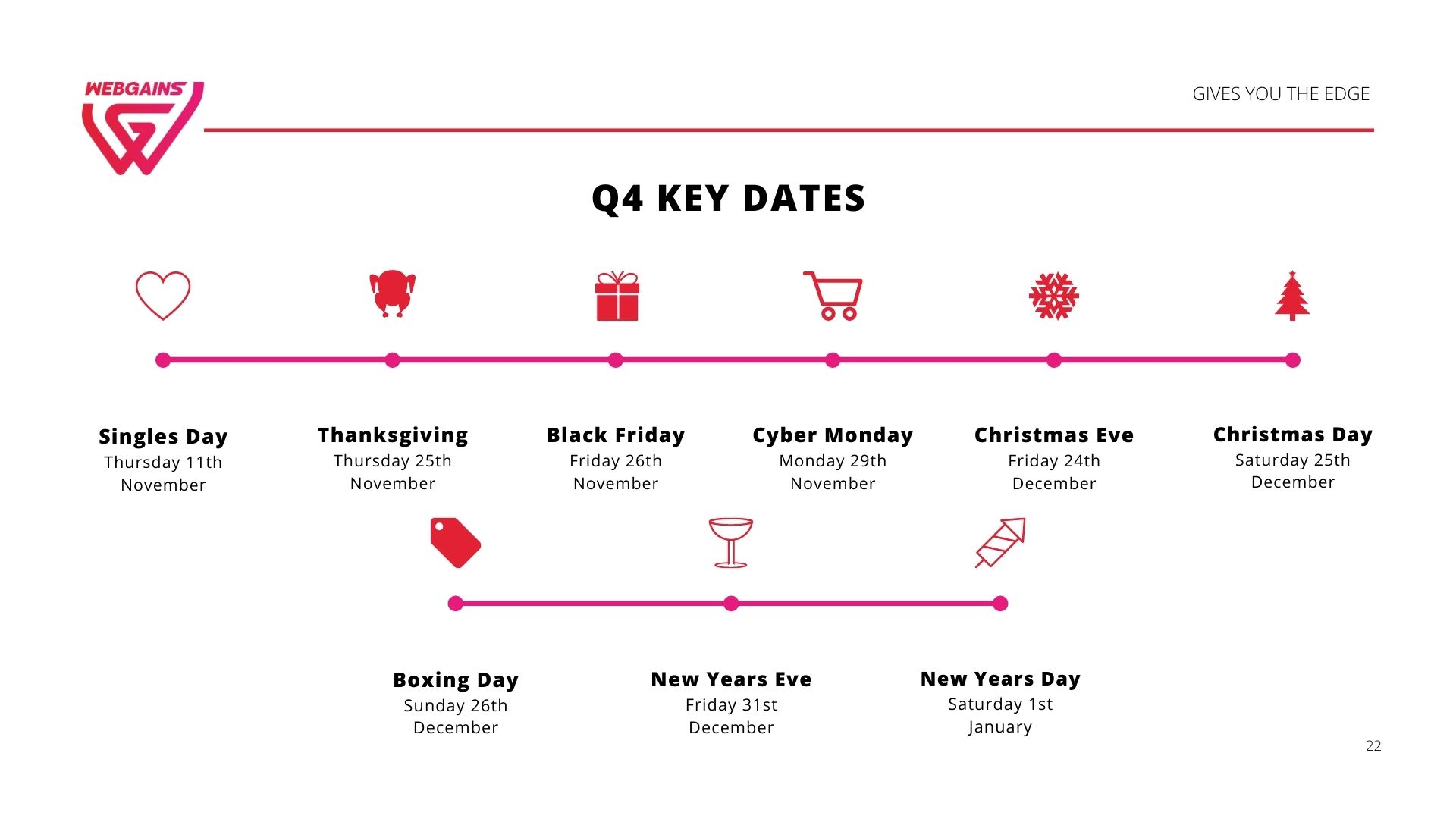 Top Tip One : Marketing Calendar and Budget
As with any project, ensuring your budget is agreed upon and the marketing calendar is up to date is an important aspect of campaign planning.
Setting targets and having a budget in place will help determine the scale of your Q4 campaigns and allow you to gauge where your valuable time and money should be invested; as well as setting clear targets for your publishers. Knowing the key dates for your campaigns helps you decide on messaging, creative assets and which products to promote.
Remember! Publishers have negotiable rate cards when it comes to advertising so be prepared with a plan and an idea of what you want to spend.
Top Tip Two : Affiliate Spots
As mentioned in our introduction, preparation is key to ensuring success for Q4. Although easier said than done, one of the first and easiest tasks to undertake is to reach out to your top and mid-tier affiliates to secure the best slots available. Opening discussions on Q4 collaboration can lead to other content opportunities such as a social push and competitions. We advise you to reach out at least four weeks in advance.
There are three slots available on affiliate sites:
Banner placement in related category pages
Placements in affiliate driven holiday promotion pages
Email marketing
Top Tip Three : Banners, Text Links and Voucher Codes
Get your site in tip-top condition by devising and scheduling your seasonal banners, text links, voucher codes and offers at least four weeks before your Black Friday campaign.
Make it easier for your affiliates to promote your key products by creating specific text links. Product-specific banners yield a higher click-through rate compared to generic banners, so tailor your banners to promote your key products.
Remember! Set reminders to refresh your banners, links and any promotional offers to ensure the correct promotions are available at the optimal time.
Top Tip Four : Data Feeds
Time-consuming, we know, but a crucial task. Preparing and maintaining your data feed enables publishers to promote effectively. Create an automated data feed where you can fetch the data daily and create multiple feeds such as Christmas data feed. Do include all your bestsellers and a feed that contains topic-specific data such as gifting product performance.
Remember! Optimise your product feed for search engines with the use of keywords. Add the most relevant keywords within both the title and the description.
Top Tip Five : Daily Deals and New Products
Daily deals and new products are tried and tested methods of promotion when it comes to Q4 campaign planning. It's an easy way to build up hype for your Black Friday campaign and maintain customer interest.
Remember! Always communicate with affiliates about new and best-selling products and which daily deals you will be promoting. Adding new products to your site and introducing daily deals keeps your website fresh for your customers and gives them a reason to return to your site.
Top Tip Six : Extend Your Sale
Extending the Black Friday sale to Cyber Monday has become common practice for marketers due to the growth in ecommerce. Thin your sale over the weekend by offering promotions such as:
Buy three pieces of jewellery and get one free
Buy one dress and get 50% off another
25% off Winter boots
Remember! Launching your Black Friday promotions before or after Black Friday offers lower cost affiliate spots. Not only does extending your sale in this way save you money, it also provides brand visibility and attracts customers resulting in a higher conversion rate and offering a second chance to those who are late to the party.
Top Tip Seven : Email Marketing
One of the most effective affiliate marketing tactics. Q4 is the peak time for promoting your best products and promotions. Advertising to an audience who are already engaged with you or their publishers means they will be more inclined to see what you have on offer.
Contact your affiliates to discuss being included in their Black Friday newsletter campaign. This type of exposure is usually a paid placement. Offer affiliates a special discount or a CPA (cost per acquisition) increase to secure your spot.
Remember! Highlight the discount in the email subject. To increase click-through rate.
Why Email Marketing?
Email marketing works best for retention, reach, and customer acquisition. It builds brand loyalty and trust, embedding relationships with present customers and leads, by speaking directly to them.
Email is 40x more effective for customer acquisition than Facebook and Twitter combined. (Neil Patel).
Marketers who used segmented campaigns report as much as a 760% increase in revenue. (Campaign Monitor, 2019).
In 2020, roughly 306.4 billion e-mails were estimated to have been sent and received each day. This figure is predicted to increase by over 376.4 billion daily mails by 2025. (Statista, 2021)
We wish that all your Q4 campaigns are merry and bright
From SMEs to established retailers, Q4 is an exciting but busy time when it comes to organising campaigns and booking affiliate spots. We have put together a nifty checklist to help you prioritise your Q4 tasks for campaign launch.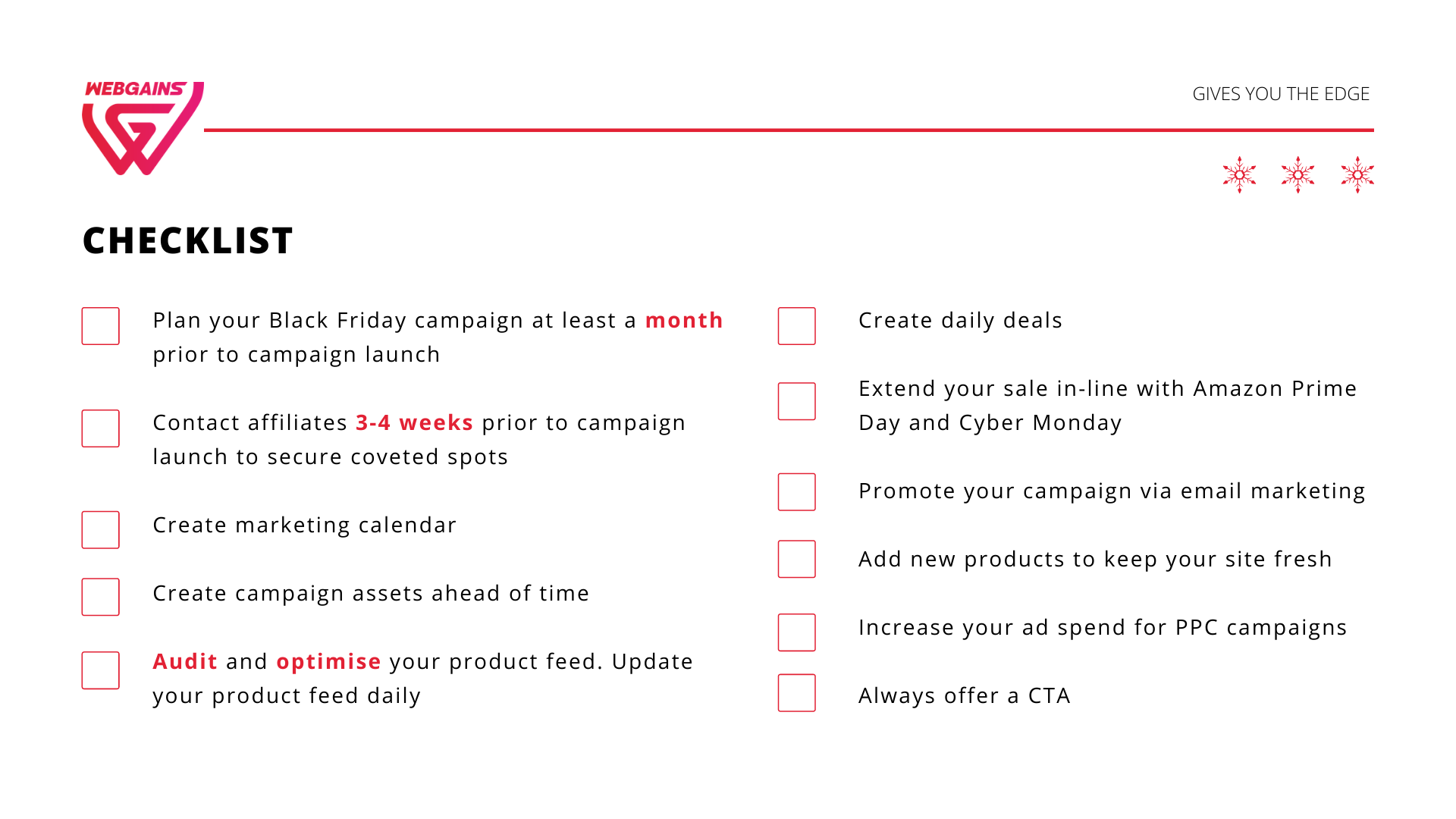 Following these top seven tips will help maximise your revenue and build brand awareness this holiday season.
Want to gain bookings for exposure? Get in touch with our team – we give you the edge.