Today, we are thrilled to announce the launch of our latest innovation, the Smart Publisher Platform. This cutting-edge AI-powered platform will empower our global network of publishers to make smarter connections with advertisers and supercharge their revenue streams.
As a publisher, you'll understand the importance of having a streamlined and efficient process in place to manage your daily tasks with ease. By offering a sleek new interface and a powerful best-in-class REST API, our innovative and AI-powered platform delivers intelligent and visually stunning solutions to meet the needs of modern publishers.
Brand new interface and best-in-class REST API
The Smart Publisher Platform offers everything our publishers need to join advertiser programs, access real-time analytics, promote ads, and leverage our AI-powered Product Discovery tool. With a faster, more reliable, and more secure interface, our new platform will transform how our publishers do business.
"At Webgains, we are dedicated to constant growth and smart innovation to meet the evolving needs of our global network. Today, we are thrilled to announce the launch of our new Smart Publisher Platform, which is streamlined, visually appealing and intelligent. Through an improved user experience and our smart Product Discovery tool, publishers can now quickly and easily earn more than ever before."
Richard Dennys, CEO at Webgains
New Interface
The Smart Publisher Platform brings our publishers a completely redesigned user interface to optimise efficiency and to streamline their affiliate operations. With usability at its core, the platform is made to simplify your daily tasks and provide a seamless experience.
Interface – key points at a glance:
A streamlined dashboard
A sleek and modern redesign
AI-powered Product Discovery tool
Improved access to AI-powered Affiliate Discovery invites
Key stats at a glance with reporting KPIs and graphs.
Transaction enquiry overhaul
Clearer guidance for publisher actions
More new functionalities and features on the way
Work smarter with AI
Publishers on the new platform enjoy access to Product Discovery, part of our AI & ML Power Suite. Powered by artificial intelligence (AI) and machine learning (ML), it enables publishers to find the right products to promote from within the ever-growing Webgains marketplace, currently numbering some 26 million SKUs.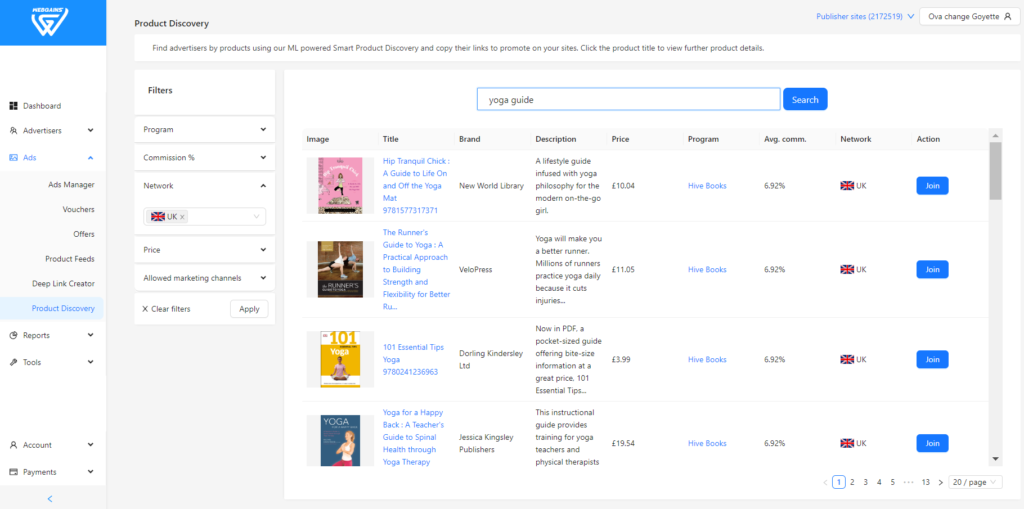 This intelligent tool identifies products for your site, via assessment of the product's conversion potential, worth, availability, and earning power. Product Discovery provides a huge productivity boost to our publishers. You no longer need to hunt for the best products or programs to promote. Instead the AI in the background does the heavy lifting and sifting to determine where the highest earning potential lies.
Watch in full on our YouTube channel
Thanks to our AI-powered tool for advertisers, Affiliate Discovery, you can also now easily see who's interested in working with you. Simply view and accept your invites under the Pending Invitations section and join the advertiser programs that think you'll be the perfect match to promote their products.
Refresh the way you do business
The new Smart Publisher Platform has a revitalised design and enhanced user experience. The result is a more intuitive navigation system with a clean, professional look and feel. These changes will optimise your workflow and make your experience on Webgains even more efficient.
Find the things you need fast
Say hello to an intelligent, sleek, simplified design that focuses on the smartest elements. Our redesign doesn't just look pretty; we've worked tirelessly to design something that users will love working within. For example, we've added essential tasks, providing quick access to them right from the dashboard. Actions like managing advertiser invitations, monitoring account KPIs, getting a snapshot of your financial summary, and creating deep links are now effortless. That's less time clicking and more time taking action. You'll benefit from immediate visibility of any outstanding tasks and quick access to program performance every time you log in.
Effortless reporting awaits
With our redesigned interface, you'll have immediate access to key performance indicators (KPIs), like total commission, total sales, and total clicks. The KPIs are displayed in your default currency for easy reading, offering a clear snapshot of the most crucial information. Get immediate visual insights with our dynamic report graphs, allowing you to quickly identify trends and crucial stats without the hassle of decoding complex data tables.
Everything handled on the platform
Experience a new level of convenience with our streamlined transaction enquiry uploads. We've made the process simple and efficient. Everything is now accessible via the platform. Not only can you easily upload your transaction enquiries, but you can also now access clear, concise instructions and a predefined upload template that guides you step-by-step, all within your Transaction Enquiries section.
Improve your understanding
Understanding the platform has never been easier. Our new interface prioritises clarity and guidance. Throughout our new Smart Publisher Platform, you'll find helpful tips and icons that guide you every step of the way, making it simple to use the tools and features you need. You'll now have better visibility of your actions and focus on driving results.
New Best-In-Class API
As well as an improved interface, our new Smart Publisher Platform comes with a best-in-class REST API that they can use directly from the API documentation, which delivers a quick, trusted and stable experience.
"Our API has always been integral to our publishers, and we're proud to say that it's now best-in-class. For many of our top publishers, an 'API first' approach is critical and key to their success, and we're confident that our new Smart Publisher Platform will exceed their expectations being faster, more reliable, and secure than ever before."
Sam Rodman, CTO at Webgains
API – Key points at a glance:
Fully manage your account using the API's extensive functionality
Secure with modern authentication methods
User-friendly API key management
Lightning fast speeds
Clear and quality interactive API documentation
A secure system is a smart system
Enhanced security is our priority. We understand that your data must be protected, but we also recognise that security measures shouldn't impede on productivity. That's why we've implemented modern authentication methods for API access and a permissions system that guarantees security without sacrificing time.
Get things done quicker
We've made sure that all updates and innovations are implemented with speed and productivity in mind. Our goal is to make the platform fast and efficient. Our brand new API documentation is clear, user-friendly and accessible online. Managing your API keys is now easier than ever, so you can focus on your work, not your tools.
Now What?
Try the Smart Publisher Platform today
If you're currently a registered and approved publisher on Webgains, you can start using the Smart Publisher Platform immediately. Click the button below and login with your email and password.
Not yet part of our Smart Affiliate Network?
If you're not already a publisher, then sign up to our network today.
You might also like…