For our latest Publisher Spotlight, we speak to Yalan, Head of Account Management at ECENTIME, a publisher on the Webgains network, to learn more about their upcoming opportunities and what makes them different.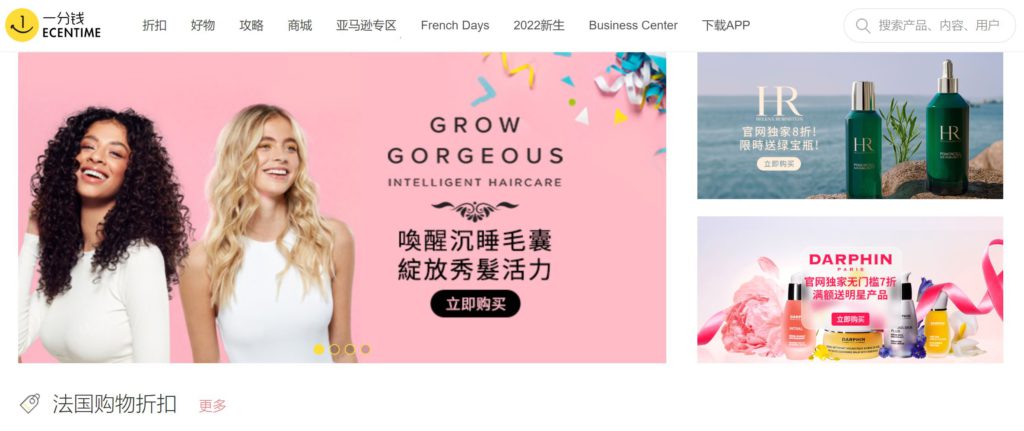 Could you please tell us a little bit about yourself and the company you work for?
ECENTIME is a company that provides living and shopping information to overseas Chinese communities living in Europe. Through our specialised editors in various sectors, we share and create content every day in Chinese. We recommend products for our audiences on our in-house App and website. ECENTIME inspires our audiences' shopping needs and facilitates their shopping process without any cultural or language barriers.
Image: Yalan LI, Head of Account Manager at ECENTIME
Please tell us what are your brand's core business values.
ECENTIME represents growth through safety. Whether helping Chinese students set themselves up for success in Europe, or guiding western brands across the Chinese community and social networking, our goal is to ensure everyone can do so with ease. Having grown across six European countries and fostering one of the biggest Chinese communities in Europe, ECENTIME's core values have guided us to where we are today.
Image: Team ECENTIME
What would you say are the biggest benefits for an advertiser working with your business and which advertisers do you work best with?
The biggest benefits of working with us can be summed up in one simple word: Community. The community we have grown over nearly a decade trusts us and relies on ECENTIME for their recommendations. Our community is relatively homogeneous and culturally similar, spread over six countries and with strong purchasing power. When we recommend products to our users, they know that we have partnered with brands that best suit their needs, brands that our employees can vouch for but most importantly, brands that they will love and keep returning to. Quality is a non-negotiable for us, we cater to brands across all industries, and our team only requires that the products or services offered by the brand are of quality.
Can you tell us about your audience and demographic?
Our audience, as mentioned above, is niche yet widespread. Our community is the Chinese ex-pat and Chinese student community of Europe. We like to refer to our audience's demographic as the hidden country of Europe. Their online purchasing habits differ from their western counterparts, but luckily we understand them. Why? Because we were them! Many of our employees were at one point or another users of the app, Chinese students or ex-pats from China, making them experts in catering and adapting campaigns for their peers.
For advertisers looking to join you, do you have any requirements or restrictions to work with you?
While we work in many different industries ranging from Cosmetics to travel, our only requirement is quality. We want to make sure that the brands we work with stand behind their products as we stand behind our users. Whether launching offline events, or online campaigns, we like to ensure that what we share is something worth sharing. If that's you, we look forward to working with you.
Any success stories you'd like to share with us relating to driving sales or traffic for advertisers?
We had a skincare brand wanting to launch their website on ECENTIME this year, so we proposed an on-boarding package across France, Germany, Italy and Spain during a Chinese version of Saint Valentine's Day on 20th May. The on-boarding process is pretty simple on the advertiser's side. Their campaign launch launching lasted 15 days with an exclusive offer. Our in-house and external channels, including our social platforms like WeChat and Little Red Book, were activated. At the end of the campaign, more than 20k€ sales were generated globally. This performance surprised the advertiser, and many of the transactions were made by new customers.
---
"At the end of their campaign, more than 20k€ sales were generated globally. This performance surprised the advertiser, and many of the transactions were made by new customers."
---
Any upcoming opportunities that you'd like to share for your business?
Yes, everyone knows that Q4 is the most important period of the year. The top upcoming campaigns are Single's Day, Black Friday, Cyber Monday and Gifting season. We are also organising two live streaming campaigns in November (which we had great results during the Single's Day campaign last year). We'll try to bring it to a more convenient and efficient package for our partners and clients.
What makes your business stand out from your competitors and gives you the edge?
Without sounding like a broken record, our edge is our community. Our community is culturally unified, linguistically homogeneous, and centralised on exclusive platforms we master, which are unavailable on traditional marketing platforms our competitors use. With 2.4 million Chinese people across Europe, our promise to you is that you can increase your revenue streams considerably, all while staying local.
---
"With 2.4 million Chinese people across Europe, our promise to you is that you can increase your revenue streams considerably, all while staying local."
---
PARTNER WITH ECENTIME AND THOUSANDS OF OTHER PUBLISHERS ON WEBGAINS